M-A's girls volleyball team battled Southern California's Mater Dei in an exciting match on Saturday, September 3, in Ayers gym. Both teams came prepared for intense competition, and both had expectations of excellence from last season.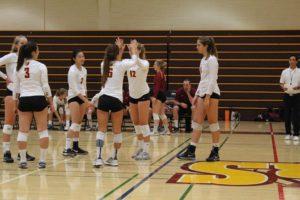 Said head coach Fletcher Anderson, "We have a big target on our backs because of how we ended last season. Many of the teams we play will have a goal of beating us this year and we will need to be ready to play every team at their best."
Last year, Mater Dei placed second in all of Southern California, while M-A took first in Northern California. Not surprisingly, Ayers gym filled up with cheering parents, friends, and fans for both teams as Saturday's North-South matchup began.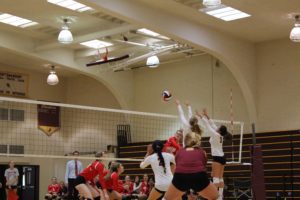 As expected, the first set took off at a blistering pace, with the Mater Dei Monarchs serving up an ace to kickoff the game. However, the Bears quickly took control with an early 4-2 lead, aided by an ace from senior Jacqueline DiSanto.
M-A continued to dominate the set, eventually increasing its lead to 12-7, with a kill from DiSanto. Mater Dei missed a serve and took a timeout, and when play resumed DiSanto and freshman Marit Hoyem both contributed kills.
Kill for M-A! 11-6 set 1, keep it up!!??? pic.twitter.com/ybPgfL55AR

— M-A Chronicle (@TheMAChronicle) September 3, 2016
The Bears continued to surge, their 18-10 lead prompting Mater Dei to take its second timeout. The Monarchs returned with a kill and an ace, and at 18-14 the Bears took their first timeout. Mater Dei put pressure on M-A by earning three consecutive points, but a block from senior Eliza Grover and a kill from DiSanto led the Bears to win the set 25-20.
The second set was painfully close from start to finish; both teams brought aggressive offense, solid defense, and obvious energy to the court. M-A eventually dropped to Mater Dei, with a final score of 25-27. The third set ended similarly, as the Monarchs beat the Bears 22-25.
Set four was do-or-die for M-A, and the players responded with remarkable effort; ultimately, the team lost the set and match to Mater Dei, 22-25.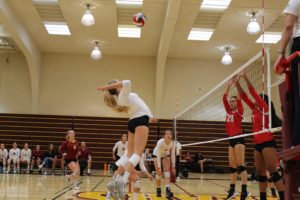 Anderson subbed Sophomore Erica Fischer in on the final point of the match to receive a tough serve. Fischer later commented, "As I went in Eliza [Grover] reassured me and said I would do fine, which I appreciated. Once I was in, it was obvious that the server would target me because I was the newbie on the court. Everything happened so fast and I just focused on the ball. Even after we lost, the girls congratulated me on a good pass…I knew they would have my back no matter what."
The Bears may have lost to the Southern Californians, but so far the team has played spectacularly against tough preseason teams. Come watch as they take on Valley Christian on Tuesday, September 6, at 6 p.m. in Ayers gym!
View live tweets of the game on https://twitter.com/TheMAChronicle.