The M-A girls varsity volleyball team pulled off a thrilling five-set win against rival Menlo on Tuesday, August 30. This was the Bears' first home game of the year and marked the start of the preseason, which will last another two weeks.
Said head coach Fletcher Anderson about the matchup with Menlo, "Last season we had already seen Menlo once in a tournament so we were able to formulate a game plan for the non-league match. This year, going in blind outside of knowing they have a new coach and some solid returners, we were basically just prepared to battle and be flexible with our lineup. The rivalry is fun and having the support of the home crowd was great, especially in the tight games."
Led by seniors Kirby Knapp (setter), Eliza Grover (middle blocker/right side attacker), and Jacqueline DiSanto (outside hitter), the team was fired up for the first set, as were the fans who filled the gym. The starting line-up for the Bears also included two first-year varsity players, middle blockers Alicia Letvin (sophomore) and Marit Hoyem (freshman).
After her first varsity match, Letvin said, "I was so nervous in the beginning, but those nerves turned to aggression and I had such a blast playing. The game is definitely more intense, but it was such a great experience and I can't wait for my next game!"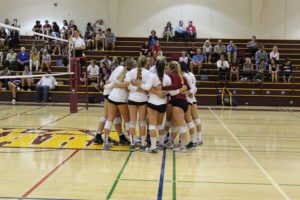 Despite their obvious determination, the varsity players lost the first set out of the best-of-five match to Menlo, with a final score of 22-25. However, the match was a stellar way for the rookie middles to kick off their varsity careers; both Hoyem and Letvin contributed several blocks and kills.
In Anderson's opinion, "[the new players] showed some really great things. Varsity matches run at a whole different pace and are much longer than most girls are used to. Starting the season with the tough non-league schedule we have kind of thrown the new kids into the fire, but they have all worked really hard the past few weeks to be ready for this match."
This first set loss drove M-A to come back even stronger for the second set, which was a nail biter: M-A led 21-20 when rookie Letvin went back to serve and dished up an ace! This brought the Bears to a 22-20 lead, and Menlo took a timeout.
When play resumed, senior outside hitter Kiana Sales got a kill, then Menlo fired back to bring the score to 23-22. Here the Bears took a timeout, and when they returned Menlo surged ahead 23-24. The Bears took another timeout and finally hammered out an unbelievable 26-24 win, with a kill from DiSanto ending the set.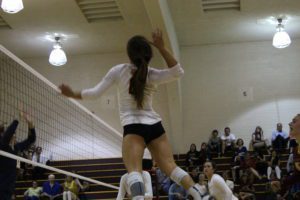 M-A followed this second set with a decisive third-set win, 25-18. Unfortunately Menlo rallied and won the fourth set in an insane overtime game, with a final score of 25-27. This victory took the match to the fifth and final set, a must-win scenario for both teams.
Another kill and Bears lead 20-14!!?? 4th set pic.twitter.com/Ut2ScyV9mR

— M-A Chronicle (@TheMAChronicle) August 31, 2016
View live tweets/video from the match: https://twitter.com/TheMAChronicle).
The varsity girls stunned the crowd— including dedicated seventh-woman clubs from both schools— with a 15-2 victory to win the match and establish themselves as a powerhouse team for the upcoming Pacific Athletic League (PAL) season.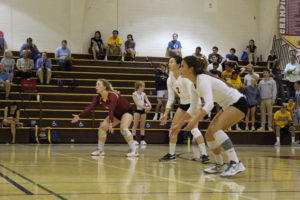 Anderson commented, "Jacqueline DiSanto had a golden hand last night. She really stood out to me, hitting .480 on 52 attempts (48% of hits were kills). Also, Kirby Knapp ran a great offense, keeping all of our hitters involved in the scoring, and Menlo's defense guessing."
The Bears have their next home game Thursday, September 1 at 6 p.m. in Ayers Gym versus St. Ignatius. It promises to be an incredible match, so come out and support your varsity Bears as they battle their way towards the season!