On Saturday, students volunteered with the Redwood City-based nonprofit organization CityTrees to plant seven trees on campus. AVID, Computer Academy, and Leadership teachers selected students to participate in the planting. "Tree planting is very symbolic, and the students who participated in this exemplify PRIDE in their day-to-day actions," explained Assistant Vice Principal Nicholas Muys.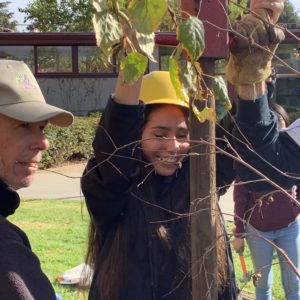 In August, CityTrees received a $42,000 grant from CalFire to plant 179 trees, 58 of which will be planted at schools in the Sequoia Union High School District. "All the trees that the grant funded are going to sequester, or remove, about 500 tons of greenhouse gases from the air in their lifetimes," said volunteer David Gravel. 
"By coming out to do work for just a few hours one morning, you create a tree that will last for 50-75 years. It's an amazing contribution," said Jack Stephens, co-founder of CityTrees. 
"I've never planted a tree before," said senior Sara Bautista. "My favorite part was meeting the other students, and then digging. I'll definitely come back after I've left M-A to see how the trees turn out."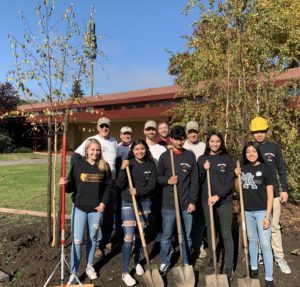 Students worked with CityTree volunteers to establish two birch trees between the A and B wings, and three ginkgo trees and one oak tree behind the F wing. "I helped dig and put back the dirt once the tree was in," explained senior Elder Lopez. 
"I think I'll be coming back [once I graduate M-A] to see the trees," said senior Katia Calderon.
According to CityTrees volunteer Filip Crnogorac, "we work to maintain the trees for the first two to three years, to make sure they survive the critical period. We come and check up on the trees, do branch removal, and eventually remove the stakes [that help support the tree]."
Since 2000, the organization has planted over 3,500 trees in Redwood City and the surrounding communities, and is all volunteer-led.