The M-A girls varsity volleyball team played an intense match against St. Ignatius(SI) on Thursday, September 1, ultimately losing in five extremely close sets.
After a fantastic win against rival Menlo the previous Tuesday, the Bears were excited to get back in Ayers gym and play in front of another supportive home crowd. The starting lineup once again included rookie middle blockers Alicia Letvin and Marit Hoyem, as well as strong seniors like libero Kiana Sales.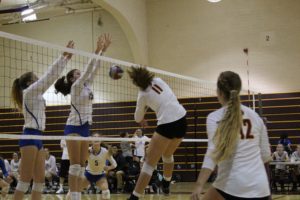 Head coach Fletcher Anderson explained, "Our lineup is always a work in progress. We have a lot of competition within the team at different positions which is great because it affords us flexibility."
In the first set, M-A started off fast with three consecutive stuff blocks from Letvin, leading to an early 8-2 lead and a timeout called by SI. As the Bears continued to dominate, senior Elise Carlomagno made her varsity debut, and the set had a final score of 25-18 favoring M-A.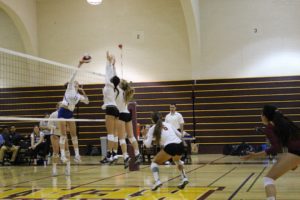 Sets two and three included standout performances from seniors Jacqueline DiSanto and Eliza Grover, as well as court time for rookie right-side attacker Nicole Kang. Unfortunately, SI won both sets, with scores of 17-25 and 22-25, respectively.
M-A rallied and took the fourth set 25-16 with solid defense and aggressive attacking, heading decisively into set five. The players gave it their all, but ended up losing the match with a final score of 12-15.
Carlomagno served during game point of the final set, and afterwards noted, "Going in to serve at game point is always one of the most nerve-wracking things in volleyball. Going onto the court, I take some deep breaths, get back to serve and do my job. It calms me down knowing that every contribution I make to the team can help pull out a win."
On Saturday, September 3, the Bears will continue their preseason with a tough match against Mater Dei, a team that last year placed second in Southern California. It is going to be an electric match, so come support the team at 11 a.m. in Ayers gym!
View live tweets of the game on https://twitter.com/TheMAChronicle.