During junior year most students are excited to get their license and drive on their own for the first time. For one junior, however, driving has been a part of his entire life. Scott Huffaker started learning how to drive at the age of four when his father began to instill what would be a lifelong love for cars and racing. By eight Huffaker was carting (racing go-carts) and by thirteen he was racing cars. Huffaker commented, "I learned from my dad. He didn't race but he really liked racing and he liked cars and so I got really into cars and I wanted to get into it."
Race car driving is not the first sport that comes to many M-A students' minds. Huffaker stated, "at the track, there's a lot of people there but you realize that you kind of see the same people there over and over… I would say it is big but it is not very popular here, you don't see people go around talking about racing very much like they do football or basketball or something."
While racing may not be as popular in the United States as it is in Europe, Huffaker still feels that there is a strong racing community. Huffaker has gotten to know many other racers pretty well especially from the Sports Car Club of America (SCCA) which has local amateur racing programs. Huffaker commented, "I've met my best friends from [the racing community]."
Furthermore, Huffaker commented, "I have met people that are famous in the racing world. Like John Block, he is a really famous engineer and I worked with him for a while [when he coached me] and we still talk and are good friends."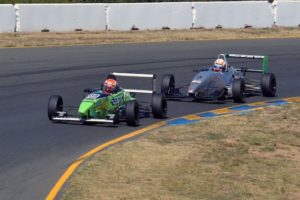 While Huffaker is part of the SCCA he competes nationally as well. Huffaker has raced throughout the country from California to Florida, and all over the east coast.
Even going to practice requires some traveling because resources such as a track, a car, and often engineers and mechanics are needed. Huffaker has practiced throughout California, depending on which track is closest and most convenient at the time.
Huffaker commented that racing is "kind of all I do, I don't really do anything else [and]… it's what I want to do for my career."
Huffaker expanded, "I want to race, but if I don't race I want to be an engineer working for a race team. I don't really think about anything else, if I go and hang out with friends we talk about cars."
Racing is much more complicated than it appears and completely different from driving the road. Racers join teams consisting of an owner, who hires everyone and collects money from sponsors; engineers, who look over data and coach the racers; mechanics, who maintain the cars; and the racers themselves. The racers work with their teams to improve, especially with the engineers, taking a surprisingly analytical approach when practicing.
With modern day technology, engineers can collect data about the car and racer to suggest changes. Huffaker explained, "they can see how much throttle I am using here, how much speed I am carrying, it's all based on graphs, and they can tell [me] 'okay there is a push here,' (a push is when you are turning the wheel and the car is moving but not turning anymore, it's going straight because you're going too fast)… Then you kind of learn those changes, so if you feel a push you know to go to that change."
Huffaker continued to say "when you drive on the race track there are points like I am going to turn at exactly here, and you get in a mindset where you get completely focused, you're not thinking about anything but just hitting those."
Eventually, he commented, "it becomes more natural and on the fly."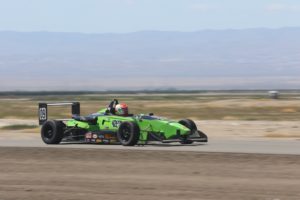 One race, which Huffaker decided to compete in mainly to gather more data, ended up being his favorite race. He commented, "it was a local race actually… I race [on] a national level, so when I race local races it's more for practice. But we were doing this for data, kind of to practice new skills. And another national driver showed up."
Huffaker recounts the race saying, "so it was me and [the other national driver] the whole race and we were just battling back and forth and so it was a crazy race because we were so equally matched. He would pass me and I would pass him, just back and forth… The last lap I bent something on my suspension, so I could barely drive, my car was barely working by the time I got to the finish and so he pulled away on the last lap. I ended up getting second. But the next day he had a similar problem at the beginning of the race [and] I ended up winning so I kind of got him back on that. But it was a really fun race even though I did lose."
As for the race he has most enjoyed watching, Huffaker replied, "when I was twelve I went to an F1 (Formula One) race. F1 is the pinnacle of racing, it's the biggest and has the most money involved, [and the] fastest cars, it is everything you want to be a part of but it is super hard to be a part of. And when we went there were like 200 thousand people that went."
Not only was he able to go to an F1 race, which is almost always held in Europe, but his favorite driver, Lewis Hamilton, was racing in it. Furthermore, during races of that magnitude drivers do not often sign autographs for fans because fans can get crazy. However, Huffaker saw Hamilton come out and start signing, but when he asked his mother if he could go she decided it would be safer if they stayed in their spots. Right after he had asked his mother, Huffaker commented, "I saw another kid do exactly what I wanted to do and Lewis Hamilton basically came and gave him his helmet and I was 'Oh my God,' and it was a kid my same age, so I was really disappointed by that, but it was a really fun experience."
Huffaker is grateful for the impact racing has had on his life. Huffaker commented that racing has made " [me] a little more disciplined [and] makes me want to challenge myself a more … because there is always a gamble with everything that you do and so you don't know what you are going to end up doing. But I really want to [race] so it makes me want to work extra hard to make sure that I get there."
Learning how to learn is the biggest skill Huffaker feels he has gained from racing. Since racing is not an extremely big sport, racers have to learn a lot on their own. Furthermore, to accommodate his racing schedule Huffaker takes half of his classes online and often has to teach himself that information. Huffaker commented, "I have gotten good at [teaching myself], now if I am going to learn how to do something like take the engine out of my streetcar, which I don't know how to do, I know exactly how to figure it out. I am a much better problem solver now too."