The M-A bands and orchestra showcased the year's repertoire and recognized the graduating seniors at the annual spring concert on Tuesday, May 23. The show featured the Concert Band, Orchestra, Jazz Band II, Jazz Combo, and Jazz Band III.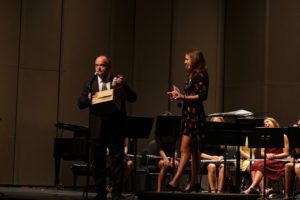 Concert Band performed four songs including "Festive Overture," by Shostakovich, arranged by Bocook; "The Triton," composed by John Philip Sousa and featured guest conductor Dave Burgess; "Clash," by Ryan Main; and "The Irish Washerwoman" by Leroy Andersen. Concert Band's four seniors Angie Yang (alto saxophone), Teresa Amor (alto saxophone), Andrew Fichou (tuba), and Annika Peterson (clarinet) were recognized for their addition to the M-A Music Program and received a special, personal gift from Kent Kurrus, the music director.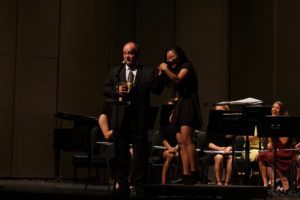 Amor, one of the graduating seniors, will be attending Brown University in the fall. Kurrus took the school's name to heart and gave an assortment of brown items, which included peanut butter and a plush monkey. Other quirky yet thoughtful gifts for this year's seniors extended throughout the night and added humor to the concert overall.
Another fun gift was given to Yang, a golf player. As she continues her sport in college, Kurrus wanted to remind her of their bond and as a result presented a set of golf balls with a photo of himself making a funny face. The humorous gift was greatly appreciated by Yang, visible through her laughter and smiles on the stage as she studied the exterior of the ball.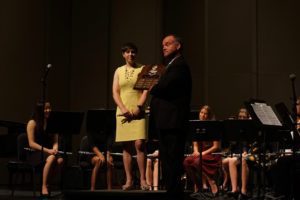 Additionally, Peterson was awarded the John Philip Sousa Band Award for her dedication to the music program over her high school career.
Following Concert Band's set was M-A's Orchestra. The graduating seniors included Annabel Yau (violin), Cole Gillespie (violin), Sophie Murff (violin), Leo Cucinel (violin), Kristina Lee (flute), Jordan Kim (trumpet), Lucy Prichard (viola), Vanessa Birrueta (viola), Jared Park (viola), Paul Bargar (clarinet), Erik Roise (cello), and Austin Tai (cello).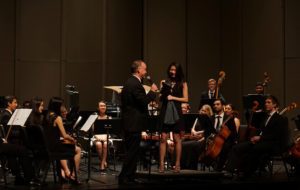 During their performance, the group played "Amadeus from Symphony #25," by Mozart, arranged by Hoffman; "Poem for Orchestra," by John Tatgenhurst; "Highlights from 'Wicked,'" by Stephen Schwartz, arranged by Ted Ricketts; and "'Hoedown' from Rodeo," by Aaron Copland, arranged by Stephen Bulla." The second song "Poem for Orchestra" featured Morishita and Lee on the violin and flute solo respectively. The Orchestra had a very successful year during the 2016 to 2017 school year receiving awards at several performances, and many of the students enjoyed closing off the year with the annual spring concert.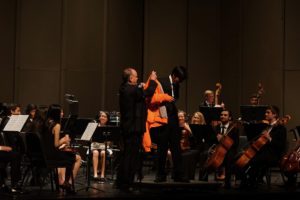 Yau reflected on her time as a member of the M-A Orchestra stating, "All of our performances and trips have been so much fun. Playing on stage at these great concert halls was always such a wonderful experience."
Senior Lee was recognized by Kurrus for her stellar work as a flutist for M-A's Music Program. At the spring concert, Lee participated in both Orchestra and Jazz Band III's performances. During her time as a member of the Orchestra, Lee would always compliment Kurrus on one his M-A t-shirts, saying how much she liked it and that it was her favorite. Although the shirt was made years ago, Kurrus found one of these same t-shirts, and while in a size large, presented it to Lee at the concert.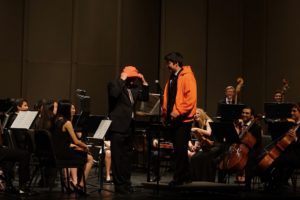 While having made many notable memories during her time in the Music Program over the past few years, Lee shared one of her favorites: "On the orchestra trip to Carnegie Hall, one night my friends and I decided to try Dunkin' Donuts, so we walked over four miles across Times Square to try Dunkin' Donuts. The coffee was actually pretty bad… And then when we got back to our hotel, we saw that there was a Dunkin' Donuts right in front of our hotel. But [the experience] was great, and I would definitely do that again."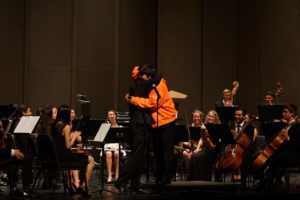 Another fun memory shared at the concert was between Kurrus and Kim. Kurrus recounted how Kim would always wear a neon orange t-shirt, generally once a week. However, Kurrus must have thought the t-shirt was too simple of a garment for being such a bold color, and as a result, took it one step further by presenting Kim with a blindingly bright orange sweatshirt.
While Kim receiving this neon orange sweatshirt was fantastic on its own, the joke only became even better when Kim surprised Kurrus on stage by presenting him with one of his favorite articles of clothing, a beanie. However, the beanie happened to be bright orange, which Kurrus immediately slipped over his head.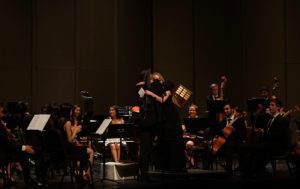 To conclude the Orchestra seniors' gifts, Prichard, the lead violist for the Orchestra, received her presents. She will be attending Kurrus' undergraduate school, University of Puget Sound, this fall, and as a result, two of her gifts were individualized to improve her college experience including a gift card to a local restaurant and an umbrella to help her endure the rainy season. In addition, Kurrus acknowledged Prichard's dedication to the Orchestra by presenting her with the Director's Award.
Preceding Jazz Band II's performance, the seniors and a few of the parents began a new tradition for the spring concert where Kurrus is recognized for his dedication and time spent teaching, taking students on trips, planning fundraisers for the music program, organizing concerts and much more. It was a sweet moment where the graduating seniors were able to express their gratitude for Kurrus' work over their high school career.
After a short intermission, Jazz Band II kicked off the jazz portion of the concert performing "Front Burner," by Sammy Nestico; "Spain," by Corea, arranged by Lopez; "Boplicity," by Henry, arranged by Hooper; and "Groovin High," by Gillespie, arranged by Yasinitsky. In their final set, Sajel Galhotra (tenor saxophone), Erica Fischer (flute) and Neel Sinha (guitar) soloed.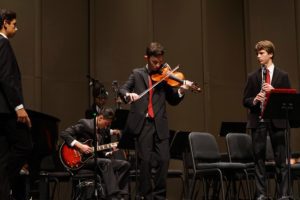 Following Jazz Band II's performance, the Jazz Combo presented two songs featuring Liu (piano), Chris Iyer (trumpet), Alex Oesterling (guitar), Lance Onodera (bass), Shane Turner (piano), Michael Sze (violin), Nikita Manin (tenor saxophone), and Selim Karahan (alto saxophone). The first was "500 Miles High," by Chick Corea, and the following was "This I Dig of You," by Hank Mobley. The selection featured solos by each member, and Junior Turner, a member of the group, arranged the Combo's second song.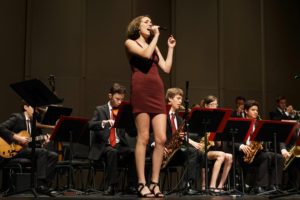 The Jazz Combo, formed in 2014, was recently awarded sixth place in the AAA High School Jazz Combo Category at the Reno Jazz Festival on April 28 where they performed the same songs.
Jazz Band III featured four seniors: Ian Lang McPherson (drums), Nicole Cisneros (bass), Sarah Tiemann (trombone) and Diana Gruber (vocal). The award-winning group played "4-5-6," by Frank Foster; "Agua de Beber," by Antonio Carlos Jobin, arranged one of the Band's pianist Shane Turner; "Bye Bye Black Bird," by Ray Hendersen, arranged by Frank Ferriano; and "A Turnabout," by Bennie Carter.
Gruber, the Band's vocalist, first sang "Agua de Beber" in Portuguese and followed with "Bye Bye Black Bird." Both complimented her smooth voice and demonstrated her immense talent as a jazz singer. This fall, Gruber will be attending Oberlin College's prestigious conservatory and will be studying jazz music.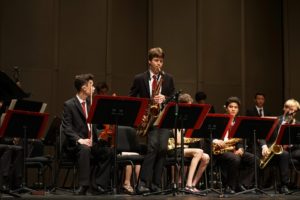 Nearing the end of the concert, Tiemann won the Woody Herman Jazz Award, recognition for her passion for jazz and her effort as a musician. Concerning her time as an M-A musician, Sarah Tiemann shared, "My favorite performance is the Big Band Dance because all the groups get to perform, and it's a time where we can not only show off our talent but actually provide real entertainment for people while also raising money to [support] the music program. You don't just get to hear your friends. You get to dance to their music, and really appreciate all the hard work they put in."
Additionally, Lange McPherson was the recipient of the Louis Armstrong Jazz Award, an honor from Kurrus for his dedication and hard work as a jazz musician.
To conclude the night, Jazz Band III played the fast, challenging song "A Turnabout." The Spring Concert highlighted the hard work of M-A's Band and Orchestra from the past year, recognized the seniors' musical participation during their high school career, and overall was a huge success for the music program.