This is developing story, check back for further updates.
Last updated March 31, 2020, at 9:04 PM.
Written by Sathvik Nori and Toni Shindler-Ruberg
Sequoia Union High School District Schools officially announce that At Home/Distance Learning will continue through the rest of the school year, following a statement by the state superintendent earlier in the day.
More information about the At Home/Distance Learning Plan can be found here.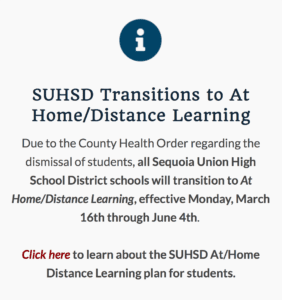 In a letter to school district officials, state Superintendent Tony Thurmond said most public school campuses will remain closed for the rest of the academic year. 
The letter stated, "Due to the current safety concerns and needs for ongoing social distancing it currently appears that our students will not be able to return to school campuses before the end of the school year." 
This letter is not an official mandate, but an acknowledgment of the current coronavirus situation and urges "a safety first approach out of an abundance of caution." However, it marked a noticeable change, as Thurmond had earlier resisted suggestions that school would remain closed till June.
The letter also emphasized that schools should redouble their focus on improving and strengthening distant learning, rather than stopping learning altogether. 
Although Sequoia Unified Schools were originally set to reopen May 1, this current directive implies that school will most likely be online for the rest of the year.
Read the letter in its entirety here.
Follow the M-A Chronicle's coverage of COVID-19 here.