Written by Grace Hinshaw
Cover photo by David Wagstaff
As COVID-19 cases hit a record low and students return to school sports practices, some teams have regularly played with masks and stayed six feet apart, and others have not. While this could've resulted in COVID-19 outbreaks, Vice-Principal Emmi said that there have been no COVID-19 transmissions resulting from athletic or school-planned events.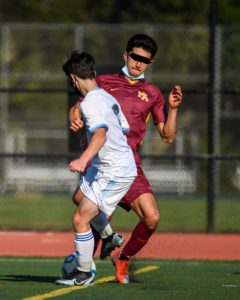 Although M-A encourages state and county COVID-19 protocols such as mask-wearing "as tolerated even during heavy exertion," and restrictions on the "sharing of drink bottles and other personal items and equipment," players have found that these guidelines are more of a loose expectation than a reality. Some teams are more consistent when it comes to following guidelines, and others follow protocols more loosely and can, for example, be seen wearing masks on their chins, if at all.
However, wearing a mask on your chin can be justified due to the ambiguity of San Mateo County's guidelines that just say, "Face masks should be worn." County protocols also mentioned, "Face coverings should be worn by participants during practice, conditioning and even during heavy exertion as tolerated." 
 Emmi said,  "We prefer that athletes have them on [over their mouth and nose] but because the county's language is so open, it makes it hard to enforce."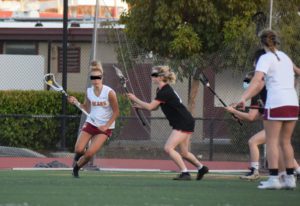 Athletic director Paul Snow explained that while all coaches are told to follow state and county guidelines, what it means to wear masks "as tolerated" while playing can depend on the athlete. Snow said, "This gray area causes a lot of confusion, and some teams are much better about wearing masks than others."
Snow added, "We can't mandate something that isn't required by either our state or county guidelines. I wish they were more clear in how they wrote up these guidelines, to be honest… I'm sure there is a reason for the vagueness, but it sure does cause me more of a headache."
The lack of clarity in the guidelines has forced teams to hold each other accountable when in doubt. Senior lacrosse player Kiana Pavlovic even said that "during practice, my team is not required to wear masks at all. However… We have all been wearing our masks during practice, usually only taking them off to get water or breathe when away from other people."
She also explained that "the only restriction the athletic administration required was to wear masks when coming and going from campus and placing our backpacks six feet apart."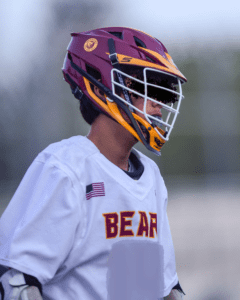 Junior soccer player Rishi Siddharth said, "Admittedly, it is very hard to try and make the players who are actively practicing and playing to wear a mask." 
 In a recent NY Times article, the CDC was quoted as saying that "less than 10 percent of COVID-19 transmissions were occurring outdoors," However, the New York Times said, "that number is almost certainly misleading… In truth, the share of transmission that has occurred outdoors seems to be below 1 percent and may be below 0.1 percent."  
 The CDC also performed a study on the NFL following the completion of their 2020-2021 season. The study states that setting, indoor versus outdoor, is integral to transmission rates. Although not officially proven, the confirmed cases of COVID-19 in the NFL, along with close contact traces, were largely traced to when masks came off during meals or other times inside training facilities. COVID-19 was much less likely to spread out on the field, during practice or games.  
The success of M-A's Prom has seniors hopeful for several other outdoor events including graduation and senior night. However, similar to sports, social distancing and strict enforcement of mask-wearing were nearly impossible to do. While most students wore masks, the DJ was persistent with reprimanding those who did not by stopping the music to try and encourage mask-wearing and social distancing. 
Despite this, Prom was very much a typical M-A dance. Students gathered closely together in a mosh-pit, and others enjoyed food fairly close together. Senior Natalia Seniawski said, "Leadership and staff were having a really hard time getting students to social distance. Luckily, I think a lot of M-A seniors have been at least partially vaccinated, but I think people could've been better at keeping masks on"
The inconsistency of guidelines at practices, games, and after-school events does raise some concerns about the ability to contact trace. At a recent board meeting, Principal Kennel admitted that if a COVID-19 case arose in a sports cohort or in-person school, there would be "almost no way to contact trace."
While the CDC stated there is an "increased risk of spreading COVID-19 while playing close-contact or indoor sports," It also said that there are plenty of ways to reduce your risk "by getting vaccinated, playing outside, staying at least 6 feet away from others, and avoiding crowds."