Written By: Amelia Wu, Izzy Leake, and Triana Devaux
What do Tchaikovsky, Judy Garland, The Beatles and the M-A orchestra all have in common? They all performed at Carnegie Hall, the world's most famous concert hall.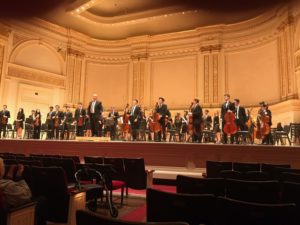 Connor Low, sophomore trumpet player, explains the stakes and immense expectations set before them by professional musicians. "Tons of famous musicians have played here. It's history!…the stage is top notch design, you can hear everything!" Low further explains the sensation of playing alone, on the Carnegie Hall stage, "…once you get into the groove [of playing the song] it gets better. Until a solo comes along. Then I got scared! Just being on the stage holds you to the pressure of the pros."
"It was a huge honor, considering Carnegie Hall is such a prestigious place of music."
Prior to performing at Carnegie Hall, they did sightseeing in New York, including watching the Broadway hit musical, "Phantom of the Opera". There, they had the chance to meet the musical pit orchestra to get signatures. Low, said the musical was "a huge inspiration and confidence booster" before heading to perform.
"So much was happening at the time, I don't think I really had any emotions or the time to process them."
However, Bellantonie enjoyed the "once-in-a-lifetime" experience despite the nervous feelings before heading onto the stage.
The orchestra played three songs: The Barber of Seville by Gioachino Rossini, Rhosymedre by Ralph Vaughn Williams, and Symphony No. 40, K. 550 by Mozart. According to Mae Linnert, sophomore, the Overture of the Barber of Seville was a challenging piece for the orchestra, because "some people couldn't keep up with the tempo of the song." As a freshman, going to Carnegie Hall, Natalie Dell'immagine said "I was nervous to go on stage because I couldn't play the song really well… I immediately felt better when I walked on stage, [seeing] all of my friends and family were in the audience, cheering me on."