As the COVID-19 pandemic drags on, La Entrada and Hillview Middle School have returned students to in-person learning, despite the continued upwards trend of cases in the county. 
"In-person from a learning perspective is obviously much better," said 8th grade Hillview student Ameya Nori. "At home there are so many things you can get distracted with."
Hillview recognized that this would be a problem in the early stages of distance learning.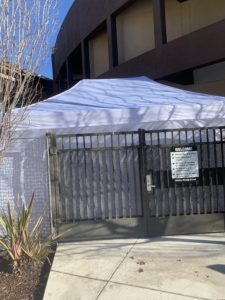 "We started making the infrastructure for what the student experience would look like in-person very early on," said Hillview Principal William Huag. "Once we had our hybrid plan in place we built our distance off of that. Moving from distance to hybrid is a dial. We need to be able to switch back and forth."
Hillview established a COVID-19 steering team that began meeting in May, including teachers, counselors, and administrators. "It was so complicated and we wanted teachers to feel comfortable with it and stand behind it," Huag said. "We wanted to empower them to join in the process."
"Another thing that happened over the summer is that we had to negotiate and bargain with our unions," Huag said in reference to the teachers union and the classified staff union. 
To make the teachers a part of the process, the fifteen member steering committee consisted of both teachers and administrators. "I am confident in the schedule, in all of the hard work that has been done to keep our contact numbers per period low so that we can be effective in classroom social distancing," said Michael Bratt, a Hillview elective teacher. "But, the Board made the decision and we had to deal with it, and I did not feel my issues were significant enough, and I also did not enjoy distance learning enough to want to stay away from in-person teaching. To avoid teaching in-person you needed to provide medical documentation which made it clear that you had a pre-existing condition which put you into a high risk group for catching COVID-19, and I did not even try to get out of teaching in-person, even though I am almost 60 years old, I have high blood pressure, and I slip into pre diabetes mode when my weight jumps a few pounds." 
Susan Arrington, another Hillview teacher remarked, "My union members chose this, I did not. My only option was to take sick leave." Arrington made clear that she would not do this, and teaching her students in-person was definitely preferred, "I love teaching the kids in-person. Distance learning is passive learning and it takes a special kid to be successful and not just go through the motions of school and work. Teaching in-person allows me to read my classroom, and to finally give them the love and happiness of a smile, even through a mask, that they all deserve and have been missing. I was missing them too."
Hillview opted for an "A and B week" schedule with one week of in-person learning followed by one week of asynchronous distance learning. English, science, elective, physical education taught in-person, and math, social studies and world language taught on the "off" week of distance learning. Students are divided into academies, which are then subdivided into cohorts. These cohorts do not change and do not interact with each other. As a result, teachers are exposed to about 50 students on A week, and another 50 students on B week.
Students were not able to return to classrooms immediately after plans were set in place. "It took so long to return to in-person learning because we were in the purple tier. When they first created the tier status you couldn't come back in-person in purple tier," Huag said. Special waivers were approved for kindergarten through 6th grade to be able to go to school inperson despite the purple tier status. On October third 6th grade students were allowed to return in-person, and "as soon as the status changed from distance to in-person we brought back the 7th and 8th grades on November seventh," Huag said. 
In contrast, La Entrada has only brought 4th and 5th grades back for in-person learning on November second and ninth, and plans on returning 6th through 8th grades on January 19th. Although La Entrada teaches a broader range of grades than Hillview, their collective student body consists of about 150 students fewer, and their campus is composed of more outdoor space. 
"Middle school students have not returned yet because we are still working out the details of 6-8 programs, staff and problem solving 4-5 on campus learning," Las Lomitas Superintendent Beth Polito said. 
For the middle school students, education has been entirely virtual from March until the in-person start date in January. "Virtual learning is improving every day and for some students the format works quite well," Superintendent Polito said. "In-person learning is critical for students who need supervision and additional support. It is also incredibly important to be able to provide a full day of in-person learning for families who work both in and outside of the home," she added despite only offering in-person learning as an option to two of La Entrada's six grade levels.
Unlike Hillview, 4th and 5th grade students at La Entrada attend school full time from 8:30 am to 2 pm everyday, rather than in a hybrid model. "It was very exciting to go back," said 4th grader Lucy Thayer. "Distance learning was a lot harder than real school because of all the tech problems." 
Both schools have made very detailed and methodical regulations in order to make the return to classrooms a safe one. Nori listed some of the rules at Hillview, "There are a lot of necessary but annoying things that cut into our learning. Like the mask regulation, we have specified bathrooms, there are staircases for only going up or down, and everyone has different entrances." He later added, "Because there are so many regulations we actually can't focus as much time on class. We have to spend a lot of time washing our hands, and between classes cleaning classrooms."
The schedule has been changed to allow for this extra time needed for sanitation. Arrington said, "I have four classes a day and we have 10 minute passing periods so that I can spray the 'poison' on every desk, chair, and sink. I must wear gloves and the kids must be out of the room. I wait one minute and proceed to dry everything. Ten minutes is never enough time to clean and go to the bathroom and take a mental break."
Other new protocols include teacher testing. "I get tested for Covid-19 every week but are kids do not have to, go figure!  Everyone wears a mask at all times, and every kid washes their hands upon coming into class," said Arrington.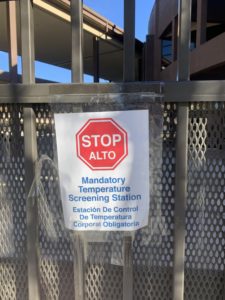 Furthermore, rooms had to be outfitted with proper ventilation systems, another major factor that had to be attended to before students were allowed back on campus. "The room was equipped with HEPA filters in the air circulation system, the use of a biomed air filtration unit to further cleanse the air at the lower levels. I have extra masks in case a student needs one, PPE was provided for those who asked, and plexiglass shielding was ordered also for those who requested it," said Bratt.
Additionally, students at both La Entrada and Hillview are required to have their temperatures checked at the entrance to school or busses everyday, and fill out regular health screenings. 
"Everyday we stand outside in line on X's that are six feet apart, until our teacher comes and takes role and checks our temperatures. Then we go inside, wash hands, and start the day," Thayer said. 
With the new regulations in pandemic-era schooling, naturally recess and lunch have changed. "Brunch is just 10 minutes of sitting at a table with two other people in your 11 person cohort. Since you can't move around it is a little boring. Lunch is the same, just extended to 30 minutes. Many people want it shortened," Ronan Cutright, an 8th grade student at Hillview.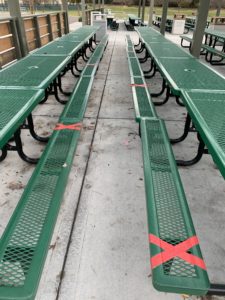 For La Entrada, at recess students sit on designated red X's and play with sanitized toys individually. "Yard duties check our distance," Thayer added.
Although students may take safety precautions seriously while at school, oftentimes outside of school they do not, putting their teachers and fellow students at risk. "I have observed so many students not following the rules I am now truly concerned that it is no longer if I will get covid, but when will I get it.  Students and their parents are the true wild card, because the parents want to be the good guys and try to make life normal for their children, so they let them go out, have sleepovers, parties, travel and so lots of mixing with people outside of their family group.  This is going to be what drives us back to full time distance learning. These are not normal times, and so a disappointed child is a safe covid-free child," said Bratt. 
Students echoed this sentiment, "if a few students aren't being safe that undermines the point of everyone else working hard," Nori said.