On Sunday, May 14, I saw the musical "'Hamilton" at the Orpheum Theatre in San Francisco. It is an incredible production, truly the masterpiece of music and theatre that it is said to be, and I was thrilled to be in the audience because seeing "Hamilton" is a big deal.
Walking into the theater, it was clear that my fellow audience members shared this sentiment; all around me, people were taking pictures of themselves and the "Hamilton" paraphernalia. Everyone wanted to document the day they got to see the famous musical "Hamilton".
This is the phenomenon of "Hamilton." It is so wildly popular that it is nearly impossible to see. Single tickets go for hundreds of dollars, and orchestra seats on Broadway sell for over a thousand dollars, which limits the audience to those who can afford to spend so much for admission. Seeing "Hamilton" is prized in part because it is rare and special, but that rarity inhibits the masses from enjoying it.
Over the past century, professional theatre has become less and less accessible to the public and has transformed into an indicator of economic status. This is disturbing because theatre is the simplest dramatic art in that it is personal and real and connective. There is nothing like live theatre. A good performance is electric, the audience and the performer share an energy that cannot be conveyed through television or film. It is a raw emotional connection.
It pains me to see fewer and fewer people go see shows. Data shows that young people do not go to the theater as much as baby boomers and older generations do.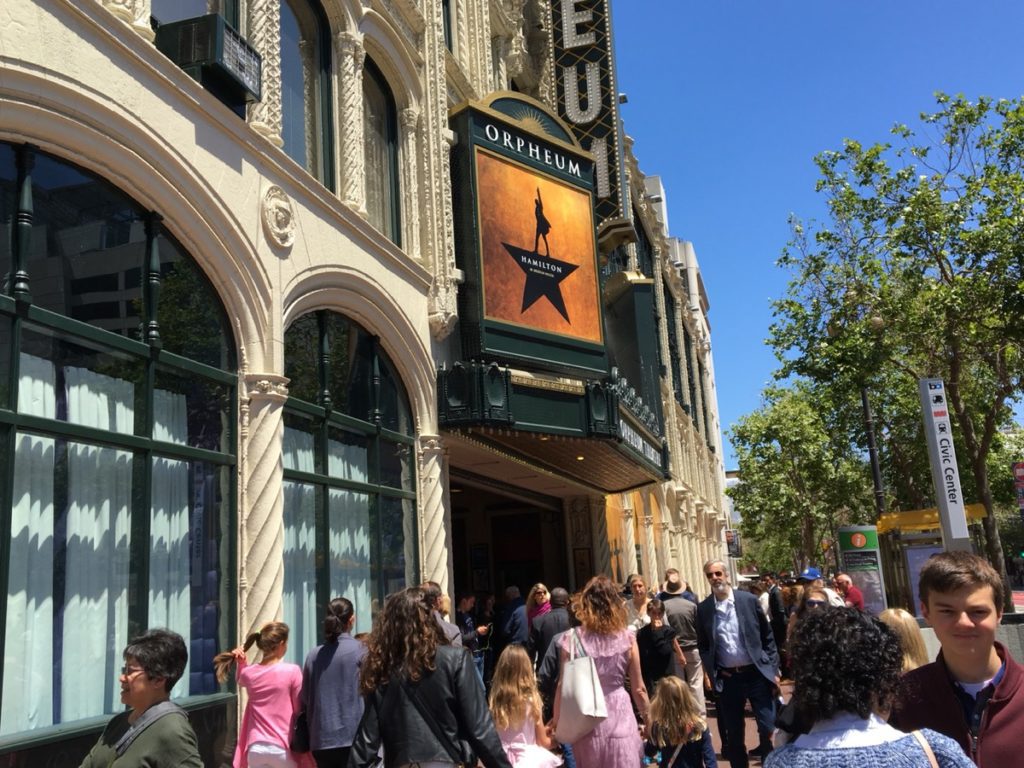 As a teenager in the late thirties, my grandfather, George Mulhern, worked at a theater in a small town in Massachusetts. He told me all about the plays that he got to see as a result and how much he loved the opportunity. He remembered the shows, the actors, and the set designs. I know that those plays touched him if he remembered them when he was 93 years old. But he didn't buy tickets, he could only see those plays because of his job; in fact, he told me he spent all of his money on the jacket for the uniform. He was not from a wealthy family, and he certainly would never have been able to buy tickets to "Hamilton" then.
For centuries, theatre had been an art form for the masses. It is only in recent history that it has shifted demographics and become elite.
Modern theatre has its origins in Ancient Greece as a public art. Citizens of all backgrounds would flock to theatre festivals, from rural farmers to wealthy politicians, even prisoners would be released to see the performances. Theatre was mass entertainment, and it was just as democratic as the politics of Athens.
In Elizabethan England, members of all social classes enjoyed Shakespeare's plays in the Globe Theatre. The lowest commoners and highest royalty watched the same actors say the same lines in the same space. Though theatre was a commercial enterprise like today, it was universal.
In the 2015 to 2016 Broadway season the data shows a specific audience demographic. 77 percent of theatre-goers were white, and the average age of theater-goers was 44 years old. Of those who were over 25 years of age, 80 percent had graduated college, 40 percent had a graduate degree. There is a clear demographic skew here, one that is indicative of the limitations expense has on a theatre audience.
So where does "Hamilton" fit into all of this? It is an outlier, and yet, it is so similar to its Broadway contemporaries. "Hamilton" is a smash hit at a time when Broadway tickets are already difficult to get your hands on, and the high demand coupled with dynamic pricing and competitive third-party vendors pushes the cost of "Hamilton" to the extreme.
To its credit, "Hamilton" has made an effort to counterbalance this. There is the Ham4Ham lottery system that offers ten-dollar tickets to raffle winners every day. Additionally, in 2016 "Hamilton" received a 1.46 million dollar grant that brought Advanced Placement United States History students from the New York City area to the show with reduced price tickets and now this program has been extended to other major cities, including San Francisco. To bring the production to fans who do not live where the show is touring, a performance of "Hamilton" was filmed but has yet to be released to the public.
Other productions have made similar efforts to be more accessible. In June of 2016 the musical "She Loves Me" held the first live stream of a Broadway show, and is still available for on-demand streaming with a subscription to BroadwayHD. This year another musical, "Newsies," was filmed and showed at movie theaters nationwide for a limited time in the spring and is now available for digital download.
It is understandable why ticket prices have become so expensive; theatre has to compete with other media, all vying for the audience's attention. In the past few decades theatre has become more of a spectacle. With greater technology and more money going into productions than ever before, the price of admission is inflated to make a profit.
Broadway argues that going to the theatre and all that razzle-dazzle is necessary for the 'whole experience' but this is unrealistic for many and there are plenty of people who want to see the shows in any way they can. More people would see more plays if they were more accessible and more familiar. Theatre should not be a dying art.