Saint Frank Coffee, tucked between a parking lot and a mixed-use development across from the Caltrain Station, is now the closest coffee spot to M-A. The kiosk was required as a part of the development project for 1020 Alma Street, and it is the San Francisco-based coffee company's newest location. A month into its soft opening phase, the kiosk has successfully attracted customers through word of mouth, delightful service, and upscale coffee.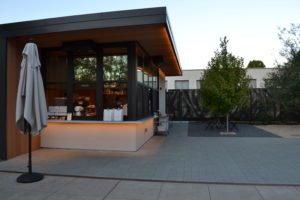 Although pricey for a high schooler's budget, the coffee sold is diverse and delicious. A macchiato is four dollars, featuring an assertive espresso and spot of whole milk to balance the coffee's boldness. The kiosk also serves several drinks that are unique to Saint Frank Coffee, including the Kaffe Tonic (house-made tonic water with a shot of espresso) and the Kaffe Cola (which features a house-made soda). 
Still, at every location of Saint Frank Coffee the menu varies. The Alma Street location is "the only Saint Frank location that has a slushie machine, so right now we have a frozen chai and we're working on a frozen latte beverage," Andrew, a barista, explained. The Alma Street location also sells pastries– including croissants, danishes, and donuts– from The Midwife and the Baker.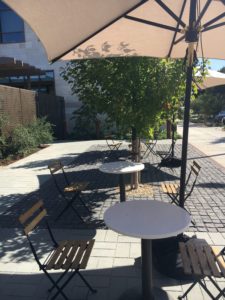 On a Sunday afternoon, almost every passerby stopped to purchase a coffee beverage or a pastry, or to simply inquire about the kiosk. Most of the outdoor tables were occupied, and  baristas enthusiastically recommended coffee beverages. For Andrew, being a hub for casual conversation is exactly the role Saint Frank Coffee aims to play in Menlo Park. 
"The name Saint Frank pays homage to the city of San Francisco, where we are based. The idea is that if the guy the city is named after, St. Francis, were around now, he'd just go by the name Frank. St. Francis was a very simple guy who was all about relationships, so that's what our approach to coffee is; once people walk away from the kiosk, they usually talk over a cup of coffee, so relationships are important every step of the way."
Saint Frank Coffee uses this relationship-based approach not only for its customer service, but for sourcing its coffee. Andrew explained that Kevin Bohlin, Saint Frank Coffee's owner, has built direct relationships with the producers who grow the coffee the company serves. 
Given its proximity to M-A, Saint Frank Coffee is an ideal place to meet for a group project or to hang out after school. However, Andrew explained that non-coffee drinkers should not be intimidated by the coffee kiosk. 
"I know I wasn't drinking a lot of coffee in high school. None of the baristas here are going to judge someone based off their order; if you want to get something big and sweet, do it."