On Thursday, M-A drama put on a stellar performance of the play She Kills Monsters, by Qui Ngyuen. The stage for the play had seating on 3 sides, a format that may be copied for the upcoming spring play, Peter and the StarCatcher. She Kills Monsters is overall excellent with impeccable choreography and stage blocking. Both Kim Jensen, who played hulked-up homosexual Orcus, and Dylan Penagos, who played D&D master Chuck, gave fantastic performances as their hilarious characters and gave much needed comedic relief to a, at times, dark play. However, what was most astonishing was the incredibly deep and beautiful performances exploring the nature of sisterhood by Kayli Smith and Lily Cass who play Tilly and Agnes Scott respectively. The play was directed by two female students, Alexandra Ornes and Sophia Glinder, who also choreographed the fights.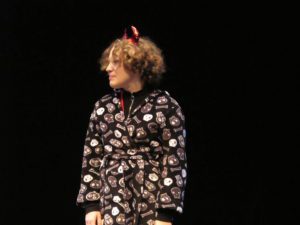 Drama teacher Danette Bathuer explained that "The students collectively chose the script. I enthusiastically supported their choice, because it is a script that is very relevant to teenagers. The story sheds light on the bullying of all types of disenfranchised groups and individuals, and reminds us about accepting everyone's differences." She also said that she thought the show was important because "throughout most of the students' high school careers, their studies are prescribed. In this case, students were allowed to choose material, roles, and set their own goals. They have succeeded in creating an artistic expression that combines each of their unique talents and abilities."
Glinder elaborated that she was inspired to direct this play because "I've been going through a difficult time with my family, so for me, it was a way to illustrate that — via stage which has always been my creative outlet." During the cast's first read of the script, when deciding what play to do Glinder said that "we [the cast] were all crying and were like 'we have to do this show.'"
Fellow cast member Ingrid Standifer felt that the show "had a really good message about acceptance and I feel like we [the cast] grew a lot from just working on the show."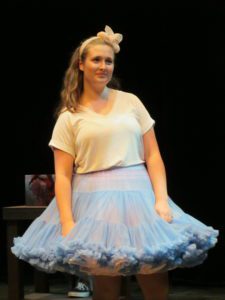 Overall, M-A's production of "She kills Monsters" is a must-see. It's humorous, heartfelt, and it excellently explores topics of grief, bullying, and regret all under the guise of Dungeons and Dragons. 
The show's last performance is tonight in the PAC at 7. The play is rated PG-13 and uses profanity as well as deals with mature themes such as death and homophobia. Tickets are $5 at the door.