Last week the Sequoia Union High School District sent out a form for students to decide whether or not they would return to M-A's campus for in-person learning after spring break. Here are the survey results that were provided to the M-A Chronicle:
Out of the total 2272 M-A students, 599 of which did not fill out the form, 1117 students across all four grades opted to return to campus for the remaining semester, beginning on April 5th. Of those students, 1087 said they would feel comfortable attending in-person instruction in the red or orange tier, while the remaining students said they would be comfortable returning in the yellow tier.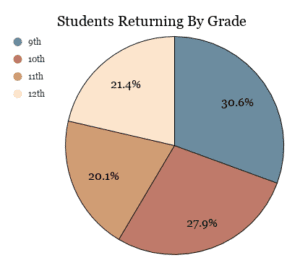 Out of all four grades, freshmen have the largest number of students coming on campus, with 342 students, about 31% of the total 1117, opting in. Around 28% of those that opted in, or 312 students, were sophomores, and 21%, or 239 students, were seniors. Juniors had the lowest number of students opting in, with only 224 students, or 20% of the total students returning.

Currently, there is no demographic data about students opting in, but Principal Simone Kennel said that "students opting in are reflective of all the communities we serve."
Based on the previous plan the District rolled out, 25% of students would attend classes on campus each day for the first two weeks. Given these numbers, this means that roughly 280 students would be on campus during the first two weeks of in-person instruction. Kennel said that with this data, they "are looking at various scenarios based on our classroom capacity and how many students can attend each day to determine cohorts." More information about an updated plan will be available next week.
When talking about the number of students that were expected to opt in, Kennel said, "I was not sure what to expect, honestly. Initially we were thinking 800 plus would opt in." Kennel explained that "improving COVID-19 case rate conditions, news this week that San Mateo County will likely be in orange next week…[and the fact that] students haven't been to school in a year" likely played a significant role in families' decisions.