This is part one in a two-part series on tutoring service Paper. The second part reports on allegations against Paper from tutors.
When students switched to virtual learning at the beginning of the pandemic, many companies sought to provide schools with new technology to help students continue to learn. Paper—formerly "Grade Slam"—is a text-based 24/7 tutoring service that the Sequoia Union High School District (SUHSD) initially contracted in August 2019 to provide AVID students with text-based support outside of school hours and allow them to submit written assignments to Paper's Review Center, paying $41,250 a year for 750 AVID students. 
The District wanted to establish a district-wide service; they agreed to pay for Paper for the service in August 2021. According to Associate Superintendent of Educational Services Bonnie Hansen, the district chose Paper over other services like Varsity Tutors, which costs $60-$200 per hour, and Tutor.com, which would cost the District $329,000 for one year. Since 2019, the District has paid Paper $649,038. Yet data indicates that students are reluctant to use Paper, and the ones that do rarely use it again. 
The District paid $276,750 last school year for Paper —a rate of $30.79 per student according to district Coordinator of Instructional Technology & Innovation Barbara Reklis. New data shows that, at M-A, 185 students used it during the 2021-22 school year. Altogether, M-A students had 976 tutoring sessions and submitted 320 essays for review. Paper at M-A would have cost $68,539 last school year, which comes out to $370 per student active.
In the first semester of the 2022-23 school year, students used Paper more. Active users last semester alone surpassed last year by 11%, from 185 students in the 2021-22 school year to 205 last semester.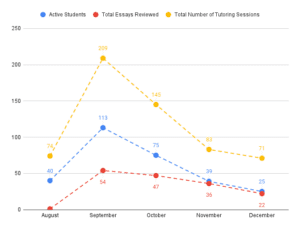 Yet few continued to use the service. In the month of September, as school was ramping up, 113 people used Paper. That number decreased to 39 by November. The number of essays reviewed decreased by 33% and the number of chat sessions decreased by 60%. This may be because people who tried Paper once didn't find it useful, prompting them to stop using the service. Despite the school paying for all 2,123 students to be able to use Paper, in most months fewer than 2% of students did. 
Sophomore Angeleah Fayette said, "I've used it once and it honestly wasn't that helpful. My tutor was trying to be helpful but then she solved the problem in a different way than what we learned in class. It ended up being more confusing and I ended up saying, 'I'll just ask my teacher.'"
One reason students discontinued their use of Paper was the reliability of support and Paper's consistency. Though senior Hannah Blunt has used Paper many times, she said, "Recently, especially with higher-level math, a lot of tutors don't know how to help and they transfer you to different tutors." 
Other students have had issues with being transferred between Paper tutors. Sophomore Nia Sadrzadeh was transferred between tutors three times and spent over an hour getting the answer for one geometry problem.
Recently, according to interviewed tutors, Paper has changed its transfer policy: the company has begun telling tutors to help students with subjects the tutors are not specialized in. One internal memo instructed tutors to use Google or to ask other tutors for assistance.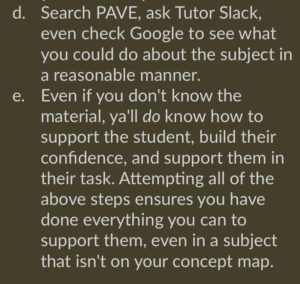 Former tutor Jamie Achenbach said, "I know of one tutor who was punished for transferring a student who asked for help with a Chinese assignment to a Chinese-speaking tutor without trying to help." In Paper's memos, they said that tutors are able to tutor students even if they are not an expert in that subject because they can still help a student understand a question or build the student's confidence. 
Achenbach added, "Normally, I would support that as a strategy to help students, but the goal is just to cut down on transfers, not help students. Paper has moved to a more profit-oriented phase in the past months at the expense of serving students."  
A current tutor added, "I can't help a student with calculus or music theory; nothing is set in stone, but I think eventually Paper will force me to." 
On being transferred to multiple tutors, Blunt commented, "It can be really frustrating since I am just trying to get my homework done. Half the time I feel like I know more than them. Then their responses take a really long time. But I know it's not their fault since I think they are working with multiple people at one time."
However, Paper's website claims, "The student has the undivided attention of the tutor," receiving "one-on-one focus."
Even so, some tutors have claimed that they are working with far more students at a time. Achenbach said, "Tutors are often working with between three and seven students at a time, rather than in the one-on-one sessions that paper advertises." A current humanities tutor said, "They lie to districts about tutoring being one on one. I consistently have three to four students at a time."
Paper's Corporate Communications Manager Ava Paydar disputes that fact; she said, "It's exceedingly rare for a tutor to work with more than one to three students at once. In fact, less than 0.8% of time is spent with more than three students in a tutor's classroom, and we refer to these periods as 'surges.' We do everything in our power to avoid these situations." Achenbach believes that statistics may be manipulated, adding, "They have been known to be creative in their use of statistics. For example, are they averaging the busy daytimes with the empty nights to make it appear lower?"
The quality of responses has also been an issue for some students. Paper instructs their tutors to use the "Paper Method," which Paydar defined as, "Rather than giving away answers, Paper tutors ask thoughtful questions to assess what students already know—guiding them toward solutions on their own." Fayette said, "They asked a lot of really simple questions that were not helpful at all."

Additionally, Paper comes with a review center that some teachers were very excited about. Andres said, "I think their essay review is really helpful because that can be submitted at any time and some students might have missed the deadline for teacher feedback and don't trust their friends' peer reviewing." However, a test of Paper's review center had feedback that said, literally, "[insert positive comment about student work]" instead of a positive comment. 
Paper averages fifteen thousand activities a day, but are they helping students? Overall, few students use it: only 9% of students at M-A tried it last year. Despite all of this, Paper is valued at $1.5 billion dollars, and raised $270 million dollars from firms like Sapphire Ventures and SoftBank Vision Fund. Paper's future at M-A is uncertain, Associate Superintendent of Educational Services Bonnie Hansen said, "The District needs to figure out why usage tapers off throughout the year before they continue the contract."