Photo credit: Jeff Benrey
The M-A varsity girls' golf team came out on top at Peninsula Athletic League (PAL) Championships Tuesday with the most wins in the league. Sophomore Nathalie Benrey won the whole tournament with 73 strokes, narrowly beating Carlmont's Viveka Kurup by one stroke. This win follows an undefeated season with a 12-0 league record. Sophomore Katie Spivakovsky and senior Joanne Yuh also placed in the top ten, with 89 and 92 strokes respectively.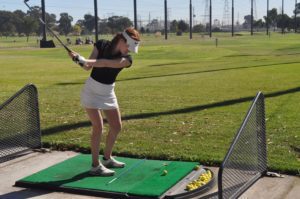 While most matches are played on a nine-hole course, PAL Championships features 18 holes. Head Coach Mark Baker described the course as "grueling" since the additional nine holes means that a match can last for over five hours, "which is a long time to be carrying a golf bag in the sun." Referring to the heat and length of the match, Spivakovsky described the course as "mentally difficult." However, despite these challenges, the team remained focused on the game at hand. "Focus and concentration are critical in golf," explained Baker.
Brynn Baker, who is team captain along with Yuh and Stella Kaval, said, "PAL definitely taught me what I need to work on, specifically in my swing and the little things I need to watch for. Because golf really is a fundamental sport, every little thing matters." Following their success at PAL Championships, the Bears will move on to Central Coast Section (CCS) Championships this coming Tuesday. At CCS, the team will be facing new competition like Paly, Harker Academy, and Menlo who they don't play against in the regular season.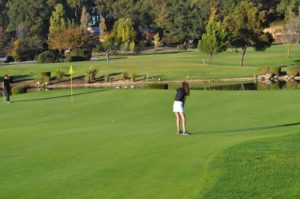 Being undefeated this season was no easy feat. "Last year we had a lot of very close matches and we were on track to be one of the top teams in the league, but we didn't go the extra mile. This year… we were able to win every match, even though there were super close matches with Carlmont, one where we won by two strokes and one where we won by one stroke," said Kaval. She attributed the team's success to the new players, new coach, and the overall increased competitiveness of the team.
Coach Baker stated: "While having the league champion player—sophomore Nathalie Benrey—shooting below 40 consistently throughout the season was great, the real factor behind the success of our team was the depth of our bench with solid performances from our entire starting line-up. We couldn't have accomplished what we did this season without the consistent performances of Joanne Yuh, Katie Spivakovsky, Brynn Baker, Angelina Heller, Triana Devaux and Stella Kaval." Baker also expressed excitement about the freshman and sophomore practice players who "show a lot of promise."