Last February, the Sequoia District Teachers Association (SDTA) advocated for and secured a 7% raise over three years to combat inflation.
This Tuesday, teachers celebrated receiving their contractual 2% raise by wearing SDTA T-shirts to school. 
Math teacher Laurel Simons said, "It means a lot to be recognized for the work that we do. Us teachers are not compensated well enough for our work, so even something as small as a 2% raise is fantastic. It's more money in my account and it makes things less tight in general."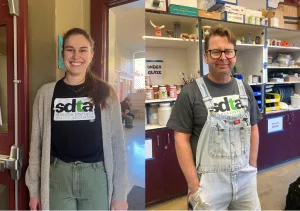 Administrative Secretary Marisela Torres said, "The raise validates all of our hard work, and I'm grateful to work in a district where our needs as a staff are considered." 
However, as of December 2022, the US inflation rate was 6.45%. Teachers received a 2.5% raise starting July 2021, another 2.5% raise for the 2022-23 school year, followed by an additional 2% for the 2023-24 school year. 
Still, fewer than 25% of employers are considering factoring inflation into wages, so from some vantage points, the raise is worth celebrating.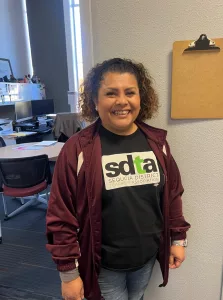 Torres said, "Most places don't match inflation unfortunately, and as inflation rises dramatically, most employers cannot afford to keep up with that. So, while it would have been nicer to get a raise that's at least half of the inflation increase, we're still always appreciative." 
Even though teacher salaries are technically increasing, Sequoia Union High School District (SUHSD) teachers are still losing money every year, and are just taking smaller pay cuts.
Ceramics teacher Mike Burton-Tillson said, "I definitely always appreciate a raise, and every little bit helps. But it's definitely not going to cover the cost of living or inflation. The bitter part is that if you look at other industries, we don't have a comparable pay scale whatsoever. With my experience and my education I'm not compensated the same way other people are." 
The increased cost of living, exacerbated by rising inflation rates, dictates where SUHSD teachers can afford to live, forcing many into cheaper areas farther away from where they work. 
According to a survey of 71 M-A teachers conducted last year, 73% of surveyed teachers do not live within 5 miles of M-A.  As a result of this, 93% of M-A teachers from our sample have a 30+ minute average commute time and spend hours commuting to and from work everyday. 
From the survey one anonymous teacher reported, "I can name at least five teachers that have left the area because of housing concerns. That's pretty much the number one reason why teachers leave." Another said, "It's honestly almost impossible to buy a house right now on a teacher's salary, unless you have the added salary of a significant other."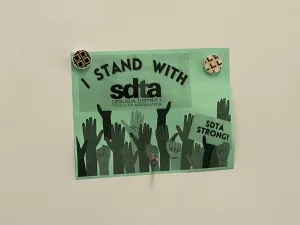 Still, M-A teachers are thankful. Torres said, "I have friends at other school districts who don't get raises—or get really small raises—so at least we are getting some recognition. When I think about underfunded and poorly- resourced school districts in the surrounding areas, I think about how happy I am to be here in this district."
Teachers credited this victory to the SDTA's persistent advocacy. Tillson said, "I'm thankful for the teachers who are union representatives, and take time away from their students to advocate for us."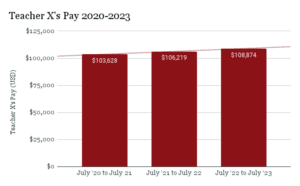 For a clearer picture of how this raise actually impacts salaries, let's say "Teacher X" has been at M-A for 10 years and has a Bachelor's degree.
They would earn $108,874 as of this year, about $2,600 more than last year. 
The graphs display how Teacher X's pay would increase marginally over time, while inflation has skyrocketed. Even though inflation rates have dropped since their peak at 7.9% in 2022, the proposed teacher raise still does not account for the increased cost of living.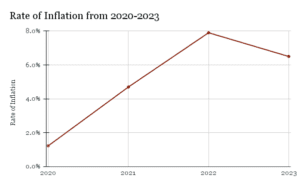 Inflation forecasters expect inflation to fade to 3% by the end of 2023—from its current 6.5%—but news outlets remain wary. Predicted inflation last year was expected to average out to 3.5%, but instead averaged double, 6%.
Our economy's future is uncertain, but because of SDTA's strong advocacy, SUHSD teachers are receiving some compensation for their hard work, and that in itself is something to celebrate.