M-A's varsity badminton team faced tough competitors from Sequoia High School. The two teams were neck in neck the entire competition, until Sequoia took the lead and defeated M-A 9-6.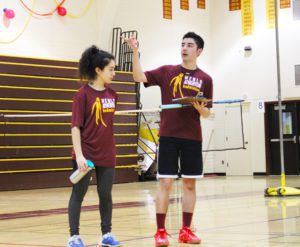 Louie Malan and Alondra Loza were able to defeat their opponents with ease. Malan and Loza are string one of the mixed event, and were up against Tara Dunn and River McCaughey. In their first match, the co-captain duo defeated their opponent, 21-11. However, McCaughey and Dunn made a comeback, winning the second match 19-21. Loza and Malan had to win their third match to win the game, and they breezed through their opponent 21-7.
After the game, Loza said, "Sequoia's mixed was pretty good last year so I was a bit nervous, but overall Louie and I crushed it." She added, "It's just that the beginning of the season is always scary because you don't know if who you played last year graduated or not, so you might get a wild card. Like the week before, Louie and I got thrashed by junior champions we've never played before."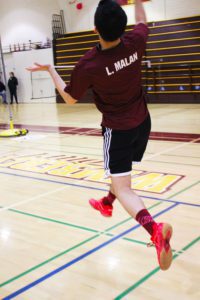 When asked about Sequoia's performance, she said, "Sequoia shocked me in that we didn't lose by that much even though they're currently undefeated."
Malan was also nervous going into his game due to the fact that the pair had never played against them; however, since his main racket was repaired, he felt confident. Malan believes that the pair could have performed better. He explained, "I think we performed mediocre, we definitely could've done much better and not let the game go into three sets." He jokingly added, "Pray for us!"
Yeny Kim, junior, who is third string for girls' singles, also dominated her opponent. She was able to win her first two matches against Tuba Irchad. She won her first match 21-6, and her second match 21-7, dominating her opponent, and giving one point to M-A.
One of the closer matches was between second string mixed pairs Erina Morishita and Cabe Estes from M-A, and Rachel Alesna and Luke Liner from Sequoia. The pair beat Sequoia in two matches, but Sequoia didn't give up without a fight. In their first match, the score was 21-20, which meant both pairs had to fight to get to 22. Estes and Morishita were able to get the one point to win the first match. In the second match, Estes and Morishita won 21-17. With their win, they gained one point for M-A.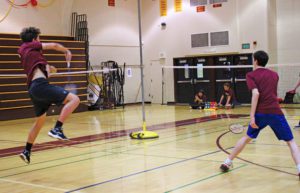 The team's coach, Clarissa Lee, said that there was definitely a lack of focus on the court. She explained, "It was a general theme today that there wasn't focus. If you weren't focused, essentially you lost." She added that when she was looking at Sequoia's past games, she believed the team could win, but Sequoia's athletes surprised her.
When asked about how she thinks M-A is doing as opposed to last year, she said, "I think they're a little behind this year, they're not quite at the upper level that I would expect them to be at this point." She added, "They have a lot to work on, but they are improving, and I'm proud of the kids and I love them very dearly."
The badminton team plays an away match at El Camino High School on Thursday March 7, and their next home game is on March 14 against Crystal Springs Uplands.