On Thursday, April 25, the boys varsity lacrosse team had a hair-raising game against Palo Alto High School. Although M-A fought hard, Paly beat M-A 10-8.
Before the game, Captain John Mills said, "I think it's gonna be a competitive game both ways and at the end of the day if we're able to stay mentally prepared and maintain our effort throughout the game, we should hopefully come out at top." He added that Paly is a competitive team that plays hard.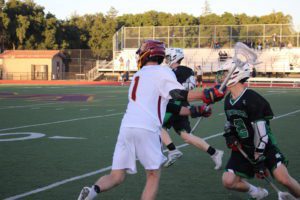 Right off the bat, Paly scored the first goal 3 minutes into the game, and then scored the second with five minutes left on the clock. The Bears fought hard, and Brendan McLaughlin scored the first M-A goal at 4:27, and Chris DiSibio tied up the game at the end of the first quarter.
In the second quarter, M-A called its first time out. Shortly after the time out, Paly scored their third goal. However, the game of cat and mouse continued as Mills scored a goal merely 17 seconds after Paly scored. However, by the end of the quarter, the Vikings were up by two goals.
The third quarter was in Paly's favor, scoring only 40 seconds into the second half. Chris DiSibio scored at 7:51, but M-A was ultimately left behind by 4 goals. It seemed that by the end of the third quarter, the bears had lost motivation.
Things weren't looking good for M-A. At 10:12, DiSibio scored again, closing the gap, but Paly went on to score two more goals. However, in the last two minutes, the bears had a spurt of determination. DiSibio scored and freshman Jeremy Koren both scored in the last two minutes of the game. Although things were looking up for M-A, the game finished before the Bears could tie the game.
Head coach Steven Kryger expected the game to be difficult. He said, "this would be a tight game. I knew they would be physical; they're a good team." He added that M-A had beaten them by one goal earlier this season, and he expected it to be a back and forth game. "There are times that our effort and our focus is great, and we do a lot of great things. And then there's time where on the defensive side, we're not aware of where our man and ball are."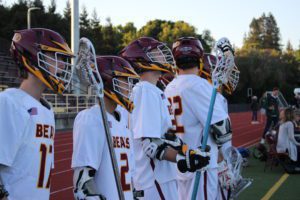 The next game will be against Carlmont High School at M-A on May 2nd.