M-A has joined forces with other Bay Area schools in order to raise money to help rebuild Paradise High School's football program. M-A football's Lucas Giarrusso gave a speech during halftime at last weekend's football game in Salinas, encouraging all the schools in attendance to donate money to the rebuilding efforts.
"I decided that it was my duty and obligation to help. I thought of how much football means to me, and what losing it would feel like. I could see myself in their shoes and decided to act," he said. Giarrusso noted that his efforts have already seen success, recalling that "a parent from Palo Alto donated a $1000 dollar check, because he claimed [Lucas's] speech moved him."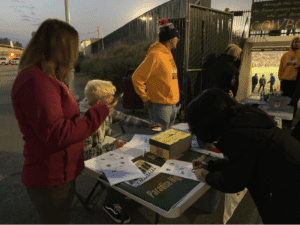 At the time of publication, they had already raised more than $40,000 of their $100,000 goal.
Giarrusso explained that it was a touching scene as many high schools had their games moved to Salinas because of air quality. As a result of so many schools being in the same area, donations were received from Palma, Salinas, Piedmont Hills, Palo Alto, Milpitas, Wilcox, and Los Gatos.
He recalled another display of human kindness when "an 11 year old girl and her younger brother went to buy candy, and were asked if they wished to maybe split a candy bar, and donate half the money. The girl looked at her brother and said, 'let's not get any candy today' as she put the 10 dollar bill in the jar."
This weekend's game on Saturday aims to raise more money for the cause. You can donate directly here.