Kanye West is back in the center of conversations, media, and news with the release of new music, viral tweets, and a rant at TMZ. The Kanye news has spread like wildfire as it historically does, reaching Menlo-Atherton students and even teachers alike.
Kanye released two new songs, "Ye vs The People" and most notably "Lift Yourself." The song Lift Yourself includes a verse from Kanye West with lyrics like, "whoopity scoop, scoopity whoop, etc." The song has led to mixed reactions from many listeners.
Even students like senior Kai Fore, who does not actively seek out the information, has heard Kanye's tweets about Trump and his new song "Lift Yourself." "I definitely think its different," said Fore, "I thought it was funny and I liked it."
Fellow senior Scott Macdonald enjoyed Kanye's new conversation-starting songs. "The song talks about lifting yourself from the hangups of today," explained Macdonald. Macdonald sees the lighthearted value of the song's ridiculous 'whoopity scoop' verse, which he says listeners can "ironically or unironically vibe to."
Senior Leah Marcus is not so sure about the radical new song from Kanye. "It's creative but I don't think it's considered good music," said Marcus. Senior Imahn Daeenabi was equally skeptical about the verse.
However, one thing that all four seniors could agree on was the possibility that the new music could have been part of a characteristic Kanye West publicity stunt. Kanye has a track record as a master marketer, and is notorious for his attention-grabbing claims. With the upcoming release of Kanye's albums, agreement was unanimous that the publicity that comes with the new music could all be part of Kanye's plan.
Furthermore, Kanye's tweets and claims during a rant at TMZ made headlines galore. In the days leading up to and following the release of new music, Kanye West sent a series of tweets including news about new music, but most notably tweets about Donald Trump. Kanye claims that he and Donald Trump share a "Dragon Energy." Kanye also tweeted a picture of his signed 'Make America Great Again' hat, and another with him wearing it.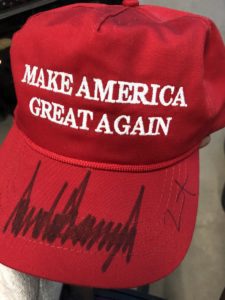 Many students, fans, and not to mention fellow entertainers were taken aback at Kanye's comments about "His endorsement of Trump was a little confusing," said Daeenabi.
Some, like Daeenabi and Macdonald see Kanye's tweets about Trump as relatively in line with Kanye's overarching message: be free thinkers, and be different. "In Kanye's mind there is a definite discrepancy between Trump's political and emotional values," explains Macdonald.
The way Macdonald sees it, while Kanye supports Trump's energy, he does not necessarily reciprocate Trump's political platform. Daeenabi agrees with Macdonald's interpretation for the most part. "I think [Kanye] prides himself on his creativity and being different and he can relate to Trump with that," said Daeenabi.
As a fan of Kanye but not a fan of Trump, Daeenabi was not necessarily excited about Kanye's tweets, yet he understands Kanye's core message. "I do agree that we need to be more free thinkers and we need to tolerate other people and their beliefs," acknowledged Daeenabi.
Once again, both Macdonald and Daeenabi acknowledged that Kanye is likely being intentionally controversial to attract attention. "Celebrities get paid for all the posts they make on social media," noted Marcus.
Not only does the controversy attract attention for Kanye's upcoming albums, but the retweets and subtweets may translate directly into money in Kanye's pocket.
Finally Kanye made a statement in an interview with TMZ. When discussing society's mental imprisonment, and an incapacity for free thought, Kanye made the unfortunate and infamous statement that essentially, 'Slavery was a choice.' Macdonald knows that the way that the headline reads is not as Kanye's message was intended, yet said regardless, "That was a dumb thing for him to say," and "obviously that's just incorrect."
Daeenabi listened to the entire interview and seeks to clarify that while it was an unfortunate statement, it was not Kanye's message. "That comment was part of a bigger rant and conversation on TMZ. In that rant Kanye had some valid points and it's worth listening to," said Daeenabi. He says that the interview also further explains Kanye's support of Trump. "He said that Obama was like an opioid. A lot of Americans thought that since Obama is black that he would take care of all the racial problems," explained Daeenabi.
Daeenabi also noted, "At the same time I don't think that supporting Trump is doing anything to make that better, it will just make it worse."
Daeenabi, Marcus, and Macdonald all agree that this instance, most of all, is likely a publicity stunt. "I think he's saying these things because he wants the hate and he wants the attention," Marcus said.
"In general I think that some of it was for publicity with his upcoming album," said Daeenabi.
Macdonald agreed, "a lot of what Kanye does, he knows, is to draw headlines," however reserves that while what Kanye says often seems intentionally controversial or provocative, "it is his honest opinion."
In reflection on the recent news, the students were relatively split over Kanye's mental health. "I definitely think something's wrong," said Marcus.
Macdonald and Daeenabi however, see Kanye's recent behavior as relatively characteristic and unsurprising given Kanye's history. "I think he is being purposeful, I don't think right now he is crazy," said Daeenabi, who notes that Kanye's mental state has actually improved substantially over the past year.
M-A Photography teacher Sarah Frivold said that Kanye's behavior could be as a result of 'celebrity syndrome.' "Because of their social status [celebrities] dont think that things will affect them in the same way as others. That is why there is a higher percentage of celebrities who are drug addicts or alcoholics or things like that," explained Frivold.
Frivold thinks Kanye's behavior could be partially due to an artificial feeling of superiority that many celebrities experience. This theory would also explain why Kanye frequently compares himself to a god, like on tracks such as "I Am A God," not to mention the album, "Yeezus" titled after Jesus Christ.
However, Frivold also acknowledged that much of Kanye's behavior is intended to attract attention. "I honestly can't tell if it's just a game for him," said Frivold. If publicity is Kanye's intention, he has been successful. "It's so crazy that without seeking it out, I still hear about it, so obviously whatever he is doing is working," said Frivold. Yet Frivold has her concerns about Kanye's radical social media stunts. "Just based on the social media behavior, it is a little concerning," she said.
Kanye's recent behavior is certainly polarizing, but is it out of the ordinary for him? M-A students and teachers consider the effects of and intentions behind Kanye's recent attention grabbing news.
Scroll down to leave a comment.