Written by Jackson Williams & Jack Hanson
Cover photo by Bob Dahlberg
As the number of COVID-19 cases continue to fluctuate, the status of current and upcoming sports seasons remains an open question. The coronavirus has yet to leave us, so the use of masks and vaccines continue to be important. Students got a chance to voice their opinions about vaccination rates and mask use through a poll I sent out to athletes throughout the school. The overall consensus was that athletes feel safe playing their sport
As shown in the visual above, 181 out of 186 M-A athletes who we surveyed are vaccinated for COVID-19. [/vc_column_text][vc_row_inner column_margin="default" text_align="left"][vc_column_inner column_padding="padding-4-percent" column_padding_position="all" background_color_opacity="1″ background_hover_color_opacity="1″ column_shadow="none" column_border_radius="none" column_link_target="_self" width="1/2″ tablet_width_inherit="default" column_border_width="none" column_border_style="solid" bg_image_animation="none"][vc_pie value="97.8″ color="#ee220c" title="Are You Vaccinated?" units="% Yes"][/vc_column_inner][vc_column_inner column_padding="no-extra-padding" column_padding_position="all" background_color_opacity="1″ background_hover_color_opacity="1″ column_shadow="none" column_border_radius="none" column_link_target="_self" width="1/2″ tablet_width_inherit="default" column_border_width="none" column_border_style="solid" bg_image_animation="none"][/vc_column_inner][/vc_row_inner][vc_column_text]With wrestling being an indoor sport, wrestlers are at higher risk for contracting COVID-19. However, Senior Alexia Bensoussan, a wrestler at M-A, said, "I think it's pretty safe considering most people are vaccinated, especially in our area."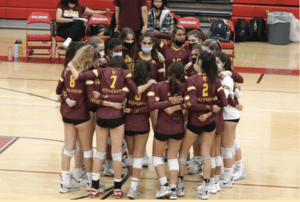 Senior Johnny Barbie, a varsity football player, spoke about the challenges of following the COVID-19 protocols by saying,"It's kind of hard because during the game we're all pushed up on one sideline […] Everybody tries to keep their distance when they're on the field running around." Barbie continued,"I try to keep my distance from everybody. But I mean, we are all on the same team, we're going to be together. So, what happens, happens."
The COVID-19 protocols differ between indoor and outdoor sports. The San Mateo County COVID-19 mandate currently requires masks to be worn indoors. Because of this, athletes playing sports such as basketball, volleyball, and wrestling are supposed to wear masks while practicing and playing. Bensoussan said,"I think it's fine wearing a mask, but when you're wrestling it's so hard [to keep the mask on]… the mask would fall off so there's honestly no point in wearing one. Second of all, you can't breathe so you start to hyperventilate while wrestling." This puts the athletes in a tricky situation. If the mask is being worn then it is much harder to breathe, but if there is no mask being worn then they're at risk for catching the virus.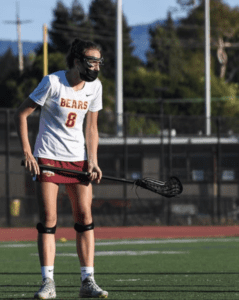 For outdoor sports, the chance of getting coronavirus is much lower as there is a consistent airflow. Barbie added, "I do worry sometimes that the teams we play might have COVID-19, but usually teams will tell us a week in advance that everybody's healthy. One of the teams that we were supposed to play had COVID-19, which kind of worried me." 
Junior Amelia Poirier, a varsity lacrosse player, said, "There are some schools that don't really require masks at their practices or they don't wear them during the game, so that makes me nervous." 
The protocols in place are more important given the Delta variant and the damage it is doing to the country. Studies have shown that the vaccine still protects the variant, but only at 50-95% efficacy for Moderna and 39-96% efficacy for Pfizer, compared to the 90-95% efficacy rate of both vaccines towards the regular COVID-19 variant. 
Most M-A athletes are vaccinated, wear masks when they can, and feel comfortable around their teammates. While their chances of getting COVID-19 isn't 0%, for now, these athletes will continue to enjoy their sports and love them even more when the virus is no longer a worry. [/vc_column_text][/vc_column][vc_column column_padding="no-extra-padding" column_padding_position="all" background_color_opacity="1″ background_hover_color_opacity="1″ column_link_target="_self" column_shadow="none" column_border_radius="none" width="1/1″ tablet_width_inherit="default" tablet_text_alignment="default" phone_text_alignment="default" column_border_width="none" column_border_style="solid" bg_image_animation="none"][/vc_column][vc_column column_padding="no-extra-padding" column_padding_position="all" background_color_opacity="1″ background_hover_color_opacity="1″ column_link_target="_self" column_shadow="none" column_border_radius="none" width="1/1″ tablet_width_inherit="default" tablet_text_alignment="default" phone_text_alignment="default" column_border_width="none" column_border_style="solid" bg_image_animation="none"][/vc_column][vc_column column_padding="no-extra-padding" column_padding_position="all" background_color_opacity="1″ background_hover_color_opacity="1″ column_link_target="_self" column_shadow="none" column_border_radius="none" width="1/1″ tablet_width_inherit="default" tablet_text_alignment="default" phone_text_alignment="default" column_border_width="none" column_border_style="solid" bg_image_animation="none"][/vc_column][/vc_row]