Written and photographed by Ella Bohmann
On Friday night, M-A's leadership hosted what was supposed to be a relaxed movie night screening of Jumanji on the Green. That didn't last long. 
A lively atmosphere grew at M-A around the start time of the movie, after weeks of publicity. Students, mainly sophomores and freshmen, were still flowing in as the movie started at eight. Tables of pizza, baked goods, and refreshments greeted attendees as the admission ticket could also buy you a food item. 
ASB President, Senior Devin Leslie, elaborated on the intricate planning of the event, and said "A committee of leadership students worked on the event for an entire quarter. They sold tickets, created a media campaign, put up flyers, reached out to administrators and to the theater (which provided the projection and screen), and executed a plan to sell concessions."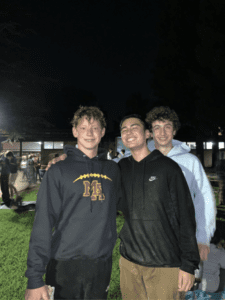 As students were just settling in, and laying blankets on the grass, the movie started, and it was going quite smoothly. But, about 20 minutes in, surges of water erupted from the grass, and soaked dozens of blankets and numerous students. The sprinklers went off!
Naturally, students opted to take full advantage of the water display, and some even darted through the sprinklers. The especially daring ones decided to slide through the muddy grass. 
As chaos ensued, and a lot of students marveled at the untimely sprinkler shower, staff had the sprinklers turned off within about ten minutes. 
Junior Jack Andersen said, "While the sprinklers were on, everything got a little out of hand. Some kids were going in the water and other kids were yelling stuff, but everyone else was standing around, pretty confused about what was going on."
There were hopes of reviving the night, as the grass closer to the movie screen was still intact and dry, but a medical emergency arose, and soon after people were permitted to leave. Leslie explained, "We planned to restart it [the movie] as quickly as possible with students watching from the dry concrete, but a medical emergency and the arrival of paramedics made it clear that the best option was to send everyone home rather than wait it out." As an ambulance arrived, an eventful movie night came to a halting end, Jumanji was sadly never finished. 
Junior Melanie Anderson said, "There was always just something right after the other. It was a hectic night to say the least."