Every August, the 600 ninth graders who will make up M-A's freshman class descend on campus a day before the official start of school, to get their schedule, meet their peers, and tour the school. Run by Leadership, the day is normally raccuos and lively, helping to build spirit amongst the freshman class. However, due to the COVID-19 pandemic, significant changes were made to this year's freshman orientation. The cohorts of  PTA volunteers and leadership students who normally lead new freshmen on tours of the campus and provide them with their schedules, were replaced with social distance signs, glass shields, and a few staff-members in masks. Split up over the course of a week, rather than the usual one day affair, at any one time there were probably no more than 25 freshmen on campus. 
According to junior Leadership student Devin Leslie who helped coordinate the orientation, "Although this year's orientation was different from previous ones, I feel like we were able to deliver a more personalized experience to each freshman. The one silver-lining to this [orientation] was that the 9th graders were able to meet with and have conversations with staff and Admin, something that didn't always happen previously. Overall, I feel like this went pretty successfully."
Unlike previous orientations, freshmen were given their textbooks and shown how to use their student ID to login to Canvas. This was done to help ease the transition to starting high school in distance-learning. Freshman Zahara Agarwal said, "I think orientation was pretty well organized and safe. I just wish they had given us a little more information on what would be happening there. I ended up biking home with 6 textbooks! Overall though, I feel pretty prepared and I am super excited to start high school."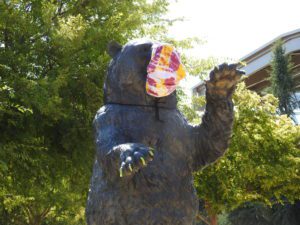 Sophomore Ishita Mishra, a student in leadership, recalls her own freshman orientation, and explains that she expected it to be different this year "because of social distancing, but the biggest difference is the lack of tours for freshmen, which we all had in big groups. Since we're going to be online, there's really no point showing them the school this year." Mishra says, "we have to wear the masks this year for safety, but I feel like it makes this less personal. Last year, I had an easier time connecting with the Leadership people leading my freshman orientation."
One freshman, Anya Perazich, who was participating in the limited, socially distanced freshman orientation described that she was "still excited" for the coming school year. She elaborated that the synchronous, remote classes will be new for everyone, but nevertheless manageable. "Although the first quarter is obviously online, I think it will still be fun since we can still interact with our classmates. It will be different, but I think I'll get used to it."
Another Junior in Leadership, Rachel Warsaw, said she found this year's freshman orientation "a little bit more confusing for the freshmen." She did, however, say that she feels as though "there is a lot more support being given to them now as opposed to recent years since everyone is trying to be conscious about it." Warsaw continued,"I think it's nice that we're still able to interact with the freshmen and get to know them, and I think that's really important for people their freshman year to really have that connection." With distance learning continuing for the foreseeable future, only time will tell how well incoming-freshman adjust to high school life.