Illustrated by Helena Warner
This year, M-A welcomed back Bears with and without masks. Though masking first became optional in March of the 2021-2022 school year, there is a visible increase in the number of students and staff choosing not to mask this year. But have COVID numbers followed suit?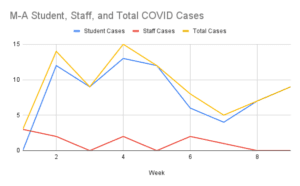 COVID case numbers for the first few weeks of school varied, but mostly stayed relatively low. So far, the most staff and studentCOVID cases in a single week this year has been 15 cases during the 4th week of school. M-A's COVID case numbers were significantly higher last year with frequent surges after holidays and breaks.   
Since fewer students miss school for COVID each day, many teachers have left behind the tools and arrangements they used last year to prevent sick students from falling behind. Last year, when many students were out, some teachers would try to record their lessons or post lessons from distance learning to accommodate students at home, while this year this is not as common since fewer students are out sick. 
Senior Susie Wagstaff got COVID in September and missed six days of school. She said, "Being out definitely made me struggle in my core classes. A lot of stuff you can't really learn unless you are in person, so being out for more than a week of school definitely hurt my learning." 
In September, sophomore Elizabeth Poirier missed five days of school due to COVID and had a similar experience. She said, "Teachers were flexible with due dates, but a lot of my teachers don't post their lessons online, so not being in person put me behind." 
Some students and staff continue to wear masks to school despite the mandate being lifted. Sophomore Zoe Fong said, "I wear a mask at school because it's what I personally feel the safest doing. I'm also a busy person with a lot of things on my plate and I really don't want to miss out on things. I began not wearing a mask at my extracurricular sport practices this fall, but am now wearing one again because an elderly relative is visiting in a few weeks." 
In terms of COVID, Fong feels relatively safe at school. "I do get twinges of anxiety sometimes about COVID, but I've come to realize that it is a part of life and society now and I can't control most of it." 
Ethnic studies and US history teacher Mallory Byrne also continues to wear a mask. "One of the reasons why I'm still wearing a mask is because I have an autoimmune issue, so I need to protect my health. I have also chosen to wear masks as part of communal care." Byrne said, "In the beginning of the school year, it freaked me out that so many of my students were not wearing masks. I wouldn't say I am 100% comfortable in terms of COVID at school—on a scale of 0-100, I am probably at a 70% comfort level being here, because I know that my mask has protected me so far." 
When asked about their future plans for masking, Fong and Byrne had similar responses. Fong said, "In the near future, I do think that I will continue to wear a mask. However, depending on the circumstances and in the long term, I could see myself choosing not to mask. This would probably start at my extracurriculars again and then slowly move to school." 
Byrne said, "I would possibly consider not wearing a mask in maybe a month or so. I've been told by one of the custodians that we have really awesome air filtration in the G-wing, and with all of the treatments coming out and additional boosters, it makes me feel a little more comfortable. I know so many people who are getting mask fatigue, and I get it, but at the same time, I really don't want to get sick. I'll see how I feel in a few weeks."
Most students, like senior Mia Sakamoto, choose not to wear a mask at school. Sakamoto said, "I feel more comfortable this year about COVID because it is not as big of a thing anymore with all the vaccinations and boosters, so it doesn't really bother me that a lot of people aren't wearing masks." 
Overall, COVID cases have decreased on campus. Still, COVID continues to impact the M-A community, from missing school to decisions about masking.