It is easy as a high school student to forget that our teachers not only have lives outside of teaching, but also were once high school students just like us. Prom is one of the most popular American high school experiences, and with Prom this week, we thought it was the perfect time to do a throwback to Prom, teacher style.
Mrs. Keigher: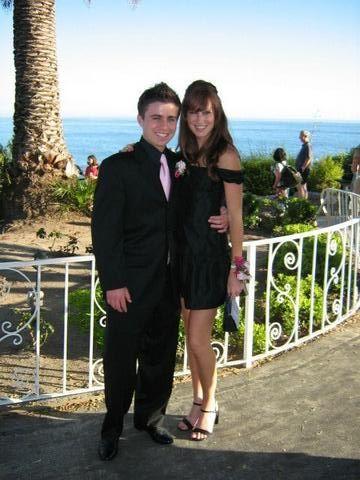 "I remember thinking Prom was a very big deal, but now I can't even remember where it was held, and the only reason I remember what I wore is because I have pictures. I do remember my date feeling very self-conscious because I was taller than him. He kept asking me to slouch down in photos."
Mr. DeCurtins:
"My high school didn't have a prom but I was invited to another school's prom by a girl I was just getting to know. The invitation came about 6 weeks before the prom but in that 6 weeks I was diagnosed with a blood disorder and given a steroid that made me unbelievably hungry all the time. As a result, by prom night I was 30 pounds heavier than when the invitation was proffered. I became a walking pumpkin. Dancing was nearly impossible. To cap off the evening, on the way home we were stopped at a red light at the corner of 7th Avenue and Pacific Coast Highway in Long Beach when a drunk driver plowed into the back of my car. My date had to wear a neck brace for a month. In testimony to her good nature and character, we stayed together for 2 years after that night."
Mr. Giambruno: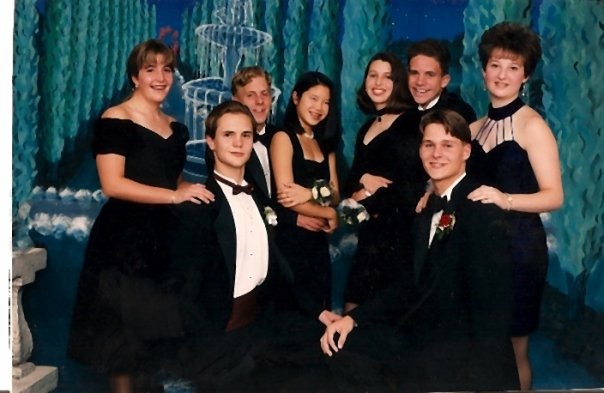 "This isn't Prom, but homecoming from my Sophomore year (94) at Hillsdale. I'm the guy in the upper right corner, next to the girl with the funny hairdo. I have no really eventful prom or homecoming stories, they were always fun and drama free. The funniest story is my date is now married to my friend in the lower left corner. It happened years later, we're still friends and hang out about once a year."
Ms. McMills: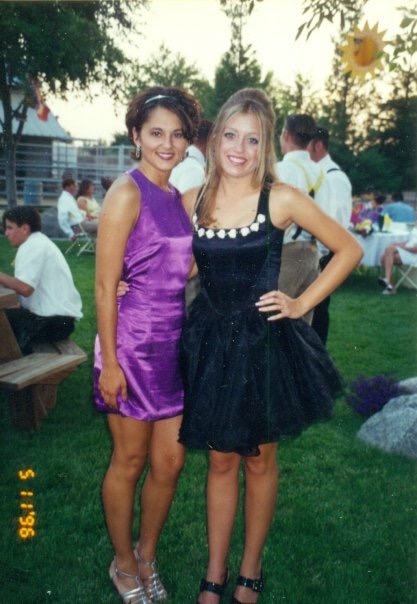 "I had a date, but really had more fun with my girl friends! We were much more casual at Prom at my high school than here at M-A. Our dressy dance was the winter formal."
Ms Frivold:
"I went with a group of girls, most were solo. I remember we went to Bocca Di Beppo before hand and the waitress said "No boys, great, so you can get dessert!" and we said "Excuse me?! Dessert, regardless of the company we are in!"
Mr. Longyear: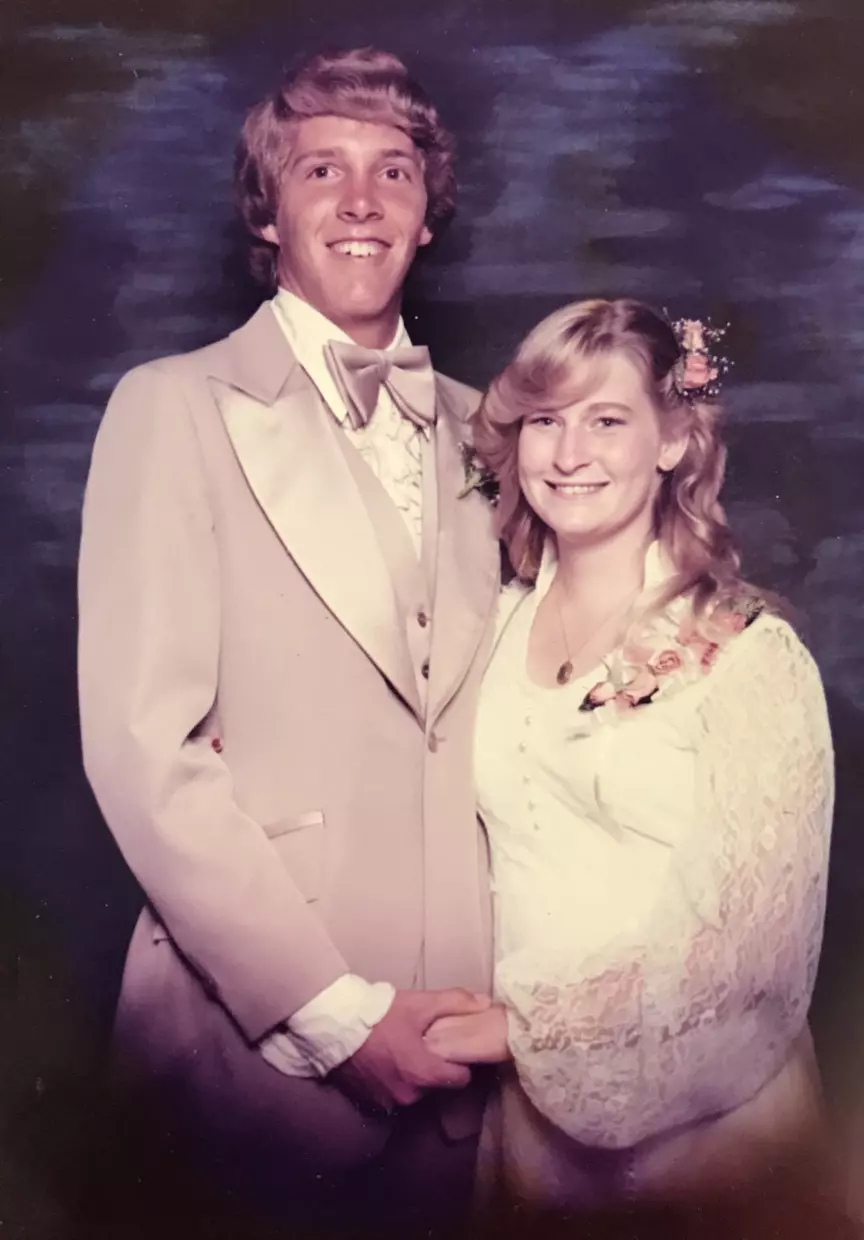 "My high school prom (Villa Park High School, '78) was held on the Queen Mary, an ocean liner docked in Long Beach. The prom theme that year was "Come Sail Away", by Styx. Late 70's fashion trends being what they were, my tux did not resemble anything James Bond would wear, but it is good for a laugh now. I spent several hours on Saturdays during the spring washing my grandfather's bronze Cadillac Seville so that I could earn the opportunity to drive it to the prom. Dinner at the Quiet Cannon and dancing in the Grand Ballroom on the Queen Mary were great, and walking the decks in the moonlight with my date Diana was romantic. The only downside was having to get up at 5:00 am to be at a water polo tournament for a 7:00 game in Riverside, one of five games we played that day in 100+ heat and a 3rd degree smog alert."
Ms. Reklis:
"My junior year, my prom date's father had been taking flying lessons out of the Palo Alto airport (I'm from here). My date convinced his father's instructor to take us out in a small plane from the Palo Alto airport sort of to the prom. We flew up the bay, through the Golden Gate Bridge and then down the coast to land in Half-Moon Bay. I got to sit up front and even got to man the controls for a bit! We then drove from there to San Francisco, where the prom was held. I wasn't scared on the plane, but the drive was terrifying. My date didn't know where to go and kept trying to read full windshield-sized maps while driving and refused any offers of help from me."
Mrs. Jaworski:
"My school had an event called The Grand March before the actual prom. Each year, the prom had a specific theme, modeled after a hit duet and a specific setting. Past themes included, "It's Your Love," "Me and You," and "I'll Be Your Angel." The stage would be decorated according to the theme-we're talking giant cardboard skylines, an Eiffel Tower, fake-stone walkways, even a giant working fountain. A junior couple would sing the song live, and then the march would begin. Every couple attending prom, because you couldn't go solo back then, would be introduced. Each couple would walk across the stage to the cheers of a standing-room-only crowd. Behind the scenes, students would be lined up, sweating in a unairconditioned hallway for a good hour or so, waiting for their names to be called. If this all sound weird and over-the-top, it's because it was.
Fun Fact: My wedding reception was held at the same venue as my senior prom!"
Ms. Otsuka: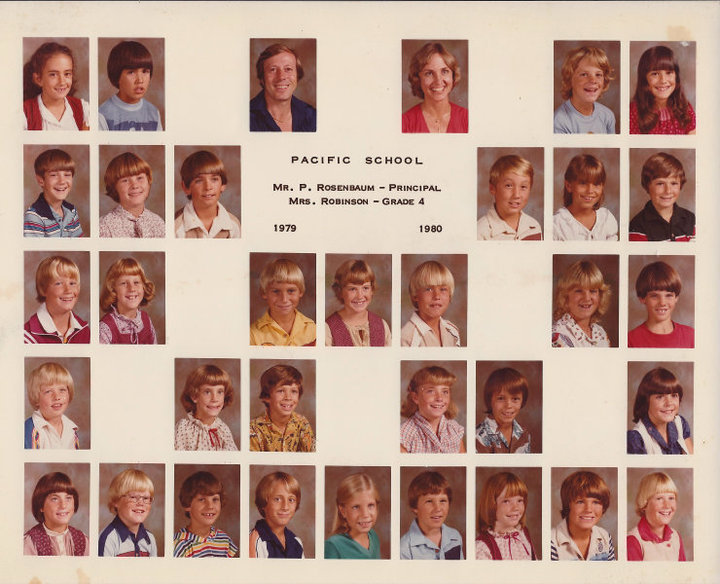 "This is my fourth grade photo and my favorite teacher. John and are in the first row. He pulled my hair every day during fourth grade. I finally had enough and yelled at him to stop. The teacher benched me at recess for yelling at John (I loved this teacher, so I was mortified). John asked me to prom senior year of high school, but I said no (my current students thought I made a huge mistake for holding onto my feelings from the fourth grade). The boy I did go with ended up getting back together with his ex-girlfriend during the prom. It was quite the fiasco. Now, all is well. John and I have both been happily married (to other people) for over 25 years."
Ms. Moore: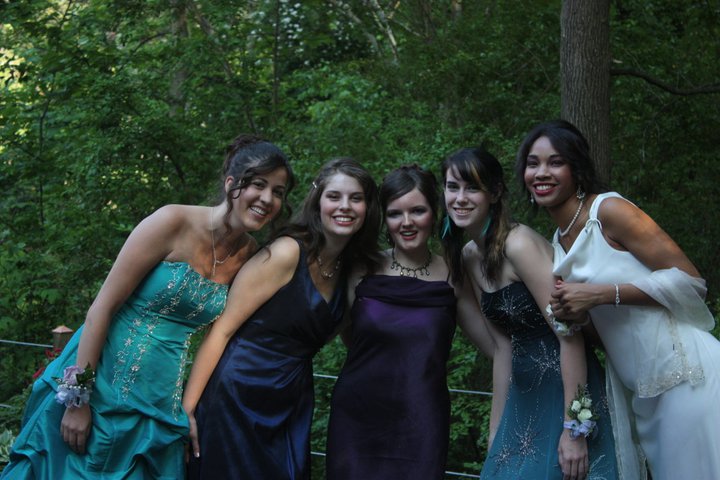 "Atlanta is one of those sprawling, Southern cities, and it's impossible to get anywhere without a car. I lived about twenty miles from my high school campus, and as a result, I became close with several of my teachers. They were the ones who would drive me home or take me to school functions when it was too far for my friends to travel.
One of my favorite teachers offered to drive me to prom since I didn't have a way to meet up with my friends. I wasn't interested in makeup at the time, and when my teacher found out, she stayed at my house for an hour or so, chatting with my parents and shaping my eyebrows and applying all these powders and colors to my face before she hauled me off to prom in her car.
I remember prom feeling like a rite of passage that senior year. I think people expect for prom to be this rallying cry between friends before you finish your studies and cross the stage for graduation. But really, you're not just celebrating with your peers. The entire school community comes together for you."