Go ice skating with friends.
The Winter Lodge in Palo Alto has many public skating sessions where you can come with your friends and family. You can find the schedule for this season here. Also, Union Square has an awesome skating rink, right next to a huge Christmas tree and holiday shopping! There are also skating rinks at the Embarcadero Center and Yerba Buena in San Francisco.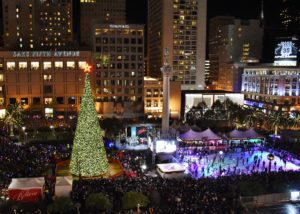 Take a drive through Christmas Tree Lane in Palo Alto.
Fulton Street in Palo Alto is well-known for going all-out for the holidays. Ever since 1940, the neighborhood has banded together to put on their long tradition of holiday spirit. Take a drive down Christmas Tree Lane, enjoy the colorful lights, and listen to holiday music.
Visit the Fairmont Hotel in SF, where you can walk through a lifesize gingerbread house.
Ever wanted to walk into a lifesize gingerbread house? You can at the Fairmont in SF! This two-story Victorian house has been built by Fairmont's team of engineers and culinary masters. The house is made of 10,250 homemade gingerbread bricks, 1,650 pounds of candy and 3,300 pounds of icing. The hotel also offers a dining service inside the gingerbread house!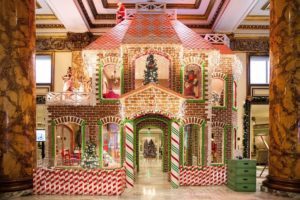 Visit the Oakland or SF Zoo at nighttime, and experience "Zoolights."
Both the Oakland and San Francisco Zoo have a special holiday season called "Zoolights." The zoos are open from 5 to 8 pm, and offer a journey with beautiful lights, festive music, and Santa Claus. Take a nighttime gondola ride at the Oakland Zoo and soar over animals and lights. The San Francisco Zoo even has its three reindeer, "Belle", "Holly" and "Peppermint" available for visitors.
There's no better way to celebrate the holidays than hitting the mall!
Go shopping and get gifts for your family and friends. The Stanford Mall has a Santa and the Union Square mall is a few steps from the ice rink.
Go on a hike with family.
With all three weeks of break, it might be hard to stay in shape. Going on a hike is the best way to stay active without getting too tired. Go to the Wunderlich Park in Woodside and enjoy some family bonding! Wunderlich has hikes ranging from 1 to 5 miles.
Grab a sundae at Ghirardelli Square.
Go to San Francisco and get a delicious sundae at Ghiradelli Square. Nothing tastes more like Christmas.
Go thrift shopping in the city.
Go buy some clothes for cheap in SF. Try the various Buffalo Exchanges or Haight Street.
Visit Filoli in Woodside.
Filoli is a historic site made from 1915-1917. Its 16-acre garden and trail system in the beautiful northern Santa Cruz Mountains in Woodside are beautiful places to walk around and enjoy some quiet peace with family and friends.
During December, Filoli adds special holiday touches, including massive Christmas trees in the gardens, live holiday music, and a story of Christmases from 1917 to 1975.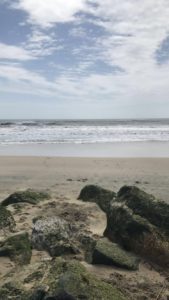 Go on a Winter trip to the beach.
As much as the cold weather may scare you from driving up to the beach, just go. Sometimes the best times at the beach are when it is raining or cold. Bring a ton of blankets and sit out on the sand— or fearlessly run into the cold water. Miramontes Point, Cowell Ranch, and Grey Whale Cove Beaches are some of the best in Half Moon Bay.