All photo credit goes to Bob Dahlberg. 
Editor's Note: This information is current as of March 4th, 2021, and comes from the M-A Athletic Directors and Coaches as well as the M-A Athletics website. It is subject to change.  
High school sports are back! After about a year of modified practices and no games since the pandemic started last March, California approved contact sports to resume activities starting on February 26. While this is very positive for many people, each sport has its own timeline for starting their season. Some sports like Girls Tennis have already had their first match, whereas other sports like Basketball are still awaiting their schedule release. Here is your complete guide for each sport, and their return to playing.
Each high school sport seems to be in one of three different categories for their return: already back playing games, slated to start games in late March or April, or has just been approved as an indoor sport. 
Cross Country, Swimming, Girls Tennis, and Girls Golf have all already returned to playing games against other schools. Cross Country had a strong opening to their season with three wins against Half Moon Bay, El Camino, and Sequoia, and look to add a fourth win against Woodside on March 10. The swim team had their first meet last Friday against Sequoia and South SF, and are currently waiting for the results of the tri-meet. Their next meet will be against Carlmont on March 12. Girls Tennis took down Carlmont to start their season 1-0, and have since played multiple other matches, looking to add another win against Woodside on March 9. The last sport in this category is Girls Golf, who had their first round of the year against Carlmont on February 22, and face off with Carlmont again on March 8. 
Most sports fall under the next category of starting to practice, with games supposed to start in late March and April. 
Football will open its season up against Half Moon Bay on March 19.  

Girls Water Polo has been in conditioning all year, and will finally start their season on April 12 against Notre Dame.  

Boys Soccer tentatively has their first game set for April 14 against Half Moon Bay, however, the schedule still needs to be finalized.

Girls Soccer will play Hillsdale on April 13 for their first game. 

Baseball has started practicing, and is waiting on confirmation to start their preseason on March 30. With confirmation, their first league game will be on April 20. 

The league schedule is out for Boys Golf. Games have been listed each week they could happen, and coaches are currently scheduling games for specific days. Boys Golf will be playing Half Moon Bay sometime in the week of April 12. 

Girls Lacrosse will have their first preseason game on March 29, they will start their league season on April 21. 

Boys lacrosse does not have a schedule yet, but they can begin to have games on April 19. 

Like Baseball, Softball is still looking for confirmation to start their preseason on March 29. If approved, they would play Gunn on the 29th. They will start their league season on April 21 against South SF.  

Track has their first meet at Aragon on April 21.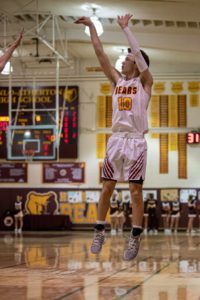 Wrestling, Volleyball, and Basketball make up this last category of sports returning. As of today, March 4, indoor sports have been approved to return to contact games. Back in February, when contact sports were approved to resume games, indoor sports were not included in the approval. Today, "indoor sports activists" settled a legal dispute with the State of California to allow all indoor and outdoor sports to resume play. Counties will have to have case rates less than 14 per 100,000. Additionally, counties will still have to approve the agreement, meaning they can opt out of it, and choose not to allow indoor sports. Because this agreement occurred today, set schedules for basketball, volleyball, and wrestling still have to be made, so therefore there are no starting dates for games yet. Assuming San Mateo County does not opt out of the agreement, schedules for these indoor sports should be made within the coming weeks. 
As of now, because of restrictions set by Sequoia District, there are no spectators allowed at any of the sporting events. However, a month ago, it did not seem like any sports would happen, and now every sport is on track to start at some point this spring, meaning that these spectator restrictions could be different in a couple of weeks.