This past week has had some particularly high temperatures, some days even reaching more than 100 degrees Fahrenheit. The heatwave has a lot of us sitting at home, and not wanting to move at all. Here's a list of a few activities that you can do outside to beat the heat.
1. Going to the beach 
The recent heat has made it the perfect time to plunge into the cool waters of nearby beaches. The entire California coastline has tons of beautiful beaches that will help cool you down. A couple of the most popular beaches are Poplar Beach in Half Moon Bay and Pescadero State Beach, which is a lot like Poplar, but closer to Santa Cruz. If you're looking for a more secluded beach, Shark Fin Cove and Davenport Beaches are a couple to try out as well.
2. Hikes in the woods 
Portola Valley offers many places to hike in the woods to keep out of the hot sun. Thornewood Open Space Preserve on Old La Honda Road is a beautiful hike deep in the woods, perfect for a hot day. Wunderlich County Park on Woodside Road is another hike in the woods, just like Thornewood Open Space Preserve. Purisima Creek State Park has tons of redwood trees that shade you from the sun. There are many more hiking trails in local parks that are great for exercise deep in nature.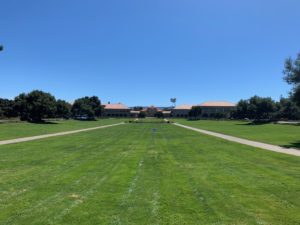 Grabbing an ice cream or boba tea from downtown Palo Alto and heading to the Oval at Stanford makes for a great way to spend a hot day. The huge, grassy lawn in the middle of Stanford has plenty of trees to stay in the shade. Chilling at the Oval with some friends, while social distancing, is a fun way to beat the heat while not having to move your body a ton. There is also the Church courtyard area with statues and more places to sit on grass closer to the university if you wanted to explore more of the university. 
4. Swimming
Swimming is a great way to cool off your body, whether at the beach or in a pool. The Burgess pool, Rinconada swimming pool, and Belle Haven pool are all great public swimming pools open to the public. If you don't have access to a pool, the best thing to do is pull out a hose, some water guns and have a water fight with your family to get covered in freshwater. Either way, using cold water for swimming, or spray with is a great way to keep your bodies cool with lots of fun.