M-A canceled school for the day due to a power outage that began at the end of lunch yesterday. Power remained unrestored on Wednesday morning, when administration emailed families with the cancellation update.
The outage came after weeks of storms with strong winds around the Bay Area, which, last week, knocked down trees around campus and led many students' families to lose power in their homes. A number of nearby schools closed last week because of power outages, including schools in the Sequoia Union High School District: Carlmont and Woodside were both closed last Wednesday, March 15th.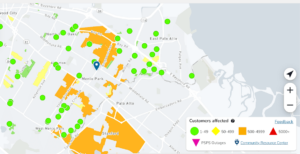 On Tuesday afternoon, lights flickered around campus before going out entirely. Still, the last class periods of the day continued as scheduled, albeit with the lights off and the bells silenced. M-A administration emailed families about an hour after the outage began, writing, "There was no wind damage to our campus and it was safe enough for students to continue on with their classes." They explained that the school would "reassess" the situation later on.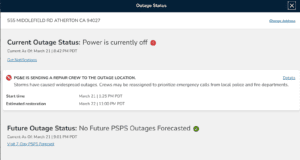 PG&E's interactive map shows ongoing power outages in some areas around M-A. It reported that a repair crew had been sent to M-A immediately, and, on Tuesday evening, it estimated that power would be restored at 11 p.m. on Wednesday.
M-A students generally seemed excited about the school cancellation, with their reactions ranging from "yay" (junior Aidan Anguiano) to "hallelujah" (senior Betsy Wall) to "WOO I'm going back to sleep" (senior Evan Wong). One student (sophomore Casey Watkins) commented, "This is the closest I'll ever get to a snow day."
The current plan is for students to return to school Thursday for a seven-period day, with sixth period ending at 2:50 p.m. and seventh period at 3:45 p.m.
Update, 2:45 p.m.: Power has been restored to M-A. Classes will resume tomorrow.