On Thursday, February 1st, 14 seniors who have committed to playing sports at the collegiate level came together to be recognized for their hard work on signing day.
Athletic Directors John Kryger and Paul Snow announced the 14 seniors' athletic accomplishments and where they had committed. 
Gigi Edwards, the starting varsity goalie for the last four years at M-A, will be taking her talents to the next level at Tufts University. Edwards was voted most inspirational player on the M-A girls' soccer team and took her team to an undefeated regular season. On top of that, she played for the MVLA club team, which was also undefeated this season. 
Edwards said, "Signing today makes it feel more real than it ever did before. I was very nervous the entire time, but it felt cool to be part of this school and part of this tradition."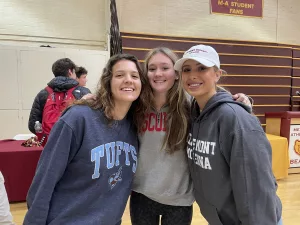 George Zaharias committed to UT Austin for baseball. Zaharias has been on M-A's varsity team all four years of high school and has been invited to the under 16 baseball national team. 
Amelia Poirier committed to Vassar College for Women's Lacrosse. Poirier has been M-A's varsity team's captain for two years. She also played for the club team Verve Lacrosse and was invited to play at the national tournament. 
Poirier said, "It felt amazing to sign today. It's been my dream to play lacrosse in college my entire life."
Allison Poirier, Amelia's mother said, "She lived her dream. She got what she has worked so hard for and I am so proud of her. I'm excited for her and her next adventure in life." 
Willy Wang committed to Rutgers University's Mens' Volleyball team. Wang has been playing for three years. This past season, he had 338 kills and 81 aces.
David Tangilanu committed to BYU for football. Tangilanu was M-A's varsity team captain and was nominated for the all-league first team. 
Soane Faasolo will play football at University of Washington. He was on varsity for two years and was team captain this past season. 
Jurrion Dickey, who is a five star and the highest-ranked wide receiver in the country, is committed to Oregon University.
Dickey said, "Signing for Oregon feels great. It is a college that I really like and a place I really want to go to. The ceremonial signing felt good because it was the last step before going to Oregon itself." 
Devon Schindler, who rows for Norcal Crew, participated in the novice Under 17 Central Youth Championship and will be rowing at Dartmouth College next year.
Diego Agustin played varsity football for two years and went to the Amateur Athletic Union Nationals. He will be taking his talent to Macalester College's football team.
Ava Martin will be going to University of Wisconsin-Madison for tennis. She took M-A's team to the CCS semi-finals for the first time in 21 years. 
Anna Ryan was captain of the girls' varsity volleyball team this year. She has been playing club volleyball since she was 11, and will be playing at Claremont McKenna College. 
Ryan said, "It feels really nice and feels very real now. I am looking forward to playing with the team there for the next four years." 
Karim Nasr was on the boys' varsity water polo team for three years. Nasr played for the Club de Natacion de Barcelona, which was 12th in the world. Nasr will be representing US Water Polo in Puerto Rico. He will play at George Washington University.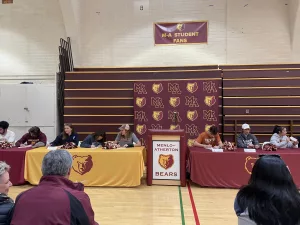 Kiely Tabaldo is second in the nation for girls' wrestling. She was undefeated this past season, with a record of 20-0, and is committed to Colorado Mesa University. 
Finally, Caroline Pecore, a four-year varsity rower for Norcal Crew, will row for Yale University next year. 
Overall, The Gym was packed with an array of friends, family and coaches. The signing was a successful, wonderful way for M-A to appreciate and recognize its student-athletes who are taking their athletic careers to the next level.