Hundreds of rallies across California happened today as angry parents and kids protested for a return to youth and high school sports. The protest, "Let Them Play CA," started with a group of parents in San Diego that were frustrated with the state's restrictions preventing any youth sports games from happening. This comes while sports in almost every single other state have returned. 
The movement quickly grew on Facebook, accumulating about 27,000 people in support, and creating just under 100 rallies throughout the state. These rallies had one goal in mind, to get youth and high school sports back onto the field by calling on Governor Newsom and local officials to cut back on some of the restrictions that were put into place preventing contact sports games.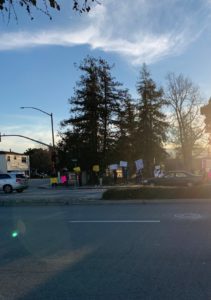 One of these 100 rallies occurred at Sequoia High School, where students from M-A, Woodside, Carlmont, Sequoia, Menlo, and Sacred Heart were all encouraged to attend the protest. Although the protest may have not gotten the support it intended to, only amassing about 20 people, the protestors' passion for the subject was evident to anyone driving by. Kristen Wilcox, an M-A parent who was the first protester out there, said, "Our message is that they should let them play. There are 35 other states that have played sports during the COVID pandemic and played safely."
Andrew Buck, a football player for M-A, added, "we all think that playing sports would be a great morale booster, we all need it right now. Sports would just be an awesome thing to bring back because it is an important experience for every teenager to have." These protestors with their "Let Them Play" signs were not the only ones expressing this sentiment, as cars driving by felt the same way. In a minute, there was an average of two to three cars that honked in support of the movement.  
The biggest motivation for the protestors at Sequoia and statewide is their love of their high school sport. They want to be out there on the field or the court, and do not want to miss a full season out of only four years in high school. However, another significant message for them involves sports' positive impact on mental health. "The mental health aspect of letting kids play sports has tons of benefits with there being no proof that there is a spread of Covid in playing sports," Wilcox commented. Tre Harad, a football and track coach for M-A, also added that, "sports are an important necessity for the youth. The government needs to consider that sports is a part of mental and physical development for teens, so it is very important to figure out a safe way to get everyone back on the field."