This is part one in a two-part series on the Live in Peace program. The second part is a personal essay written by guest writer and M-A senior Ash Dominguez Prudente.
Para la versión en español de este artículo, haga clic aquí.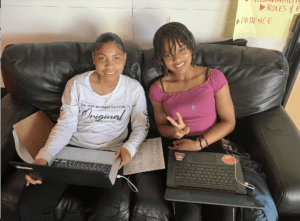 "The foundation of our work is simple: we're family," said Live in Peace executive director Heather Starnes-Logwood.
The Live in Peace program is indeed a family. Walk into the Mac after-school tutoring center on any given afternoon, and teens from local middle and high schools will be gathered around tables working on homework and enjoying tasty snacks. 
Live in Peace offers a variety of programs to support young people in the East Palo Alto and Belle Haven communities through high school, college, and beyond. 
Live in Peace's "Students Who Achieve Greatness" (SWAG) program provides academic guidance to teens at local high schools. At M-A, the SWAG program staff counsels students in the Zen Den during Flex Time, talks to counselors and teachers about students making up credits, and helps students keep up with assignments and grades.
M-A senior Myles Spencer said, "Live in Peace helped me see the importance of actually doing my schoolwork—I realized that actually doing the schoolwork is gonna help a lot more than just sitting around hoping."
M-A junior Epiphany Bass said, "Live in Peace feels like a family. The tutoring is very helpful, and it also doesn't feel like I'm just coming here to do work, because I have my people here with me too."
Emi Jackson, a sophomore at Eastside College Prep, added, "Live in Peace helped me open up more and introduced me to new people. I was able to see how other people work, and the tutoring has been super helpful."
For students who aren't yet sure about their next steps after high school, Live in Peace's "Growth and Purpose" (GAP) program provides a support system to help figure out career and life plans. Some students in GAP pursue trade school; others attend community college.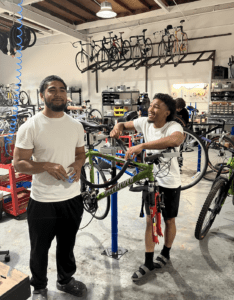 M-A alum and Foothill College freshman Ohu Vaipulu said, "GAP has the best tutors and the best food. I'm studying business right now, but I might switch to architecture soon, and GAP has really helped me figure things out."
M-A alum Jaden Avenido added, "Right now, I'm working at the bike shop, doing martial arts, and thinking about going to trade school, which I learned about through a Live in Peace internship. The GAP program has helped me to find my path."
The College Initiative Program provides mentoring and scholarship support to students attending four-year universities. M-A alum Caprice Powell said, "The Live in Peace staff helped me navigate semester after semester of college by advising me on decision-making, sacrifice, and the importance of self-discovery. I never had to question if I had support or felt judged trying to figure out my next steps. They are part of the reason why I now hold two degrees and am soaring on."
Read: Former Track Star Caprice Powell '10 Finds Fulfillment in Education and Mental Health Advocacy
On Wednesdays, Live in Peace hosts "Family Nights," where the community comes together to enjoy dinner and each other's company, and discusses topics including current events, mental health strategies, and everyday life experiences.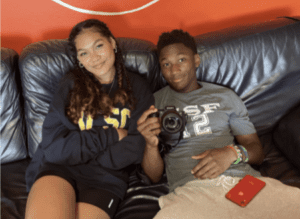 Palo Alto High School sophomore Ja'Meer Cooper said, "Live in Peace helped me build relationships and bonds with people, improve my social skills, and meet new friends."
Isaiah Mora, a sixth grader at La Entrada, added, "I can just be myself at Live in Peace, and express myself. I just want to be here every day."
To the left of the Mac center is the Live in Peace bike shop, which provides a space for young people to learn and train to be bike mechanics. It also provides free bikes and organizes riding clubs and community bike rides.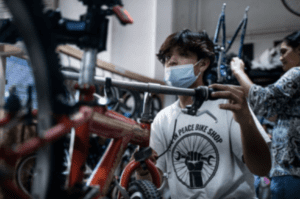 Chino Anaya, a freshman at KIPP Esperanza High School, works as a mechanic in the bike shop. "Sometimes I get in trouble, and I figure if I wasn't here I'd be in a lot more trouble," he said. "It keeps me busy—I have a job, and I can do homework here. When my old bike broke down, the shop helped me get a new frame, which was really helpful because that was my transportation."
To the right of the Mac center is the Rogue Empire gym, which partners with Live in Peace to offer jujitsu, taekwondo, and boxing classes for kids. The gym teaches students discipline, confidence, and self-defense, and allows them to make up P.E. credits and earn community service hours.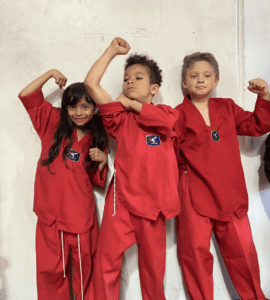 Second grader Jonathan Aguilo Jr. said, "My favorite part of taekwondo class is that I get to hang out with my friend Bobby and we get to work together." 
Kindergartener Mia Garcia added, "My favorite part is that the teacher lets me stay after class to play with my friends!"
"Live in Peace is different from anywhere else I've worked because it is so flexible and adaptable to the needs of the community," said Life Coach Saba Malik. 
During the COVID-19 pandemic, Live in Peace recognized that many families in the community were struggling to make ends meet and pay their rent, so they raised enough money to cover 150 families' rent in East Palo Alto for six months.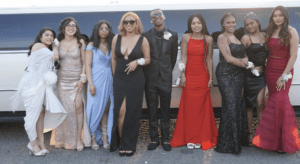 Before M-A's Homecoming and Prom dances, Live in Peace hosts pre-parties and photoshoots to help students prepare their hair, makeup, and outfits. The program subsidizes the cost of dresses, tickets, and jewelry so students can attend without worrying about the financial burden. 
Live in Peace also pairs high school students with "Life Coaches" who provide one-on-one mentoring and support.
 "We have a staff of 15 people, and 13 of those people are from this community. They grew up here, have roots here, know the people here, and understand the kinds of struggles our kids go through. A lot of them are ex-gangsters who turned their lives around and can talk to our kids in a way that they can relate to," explained Malik.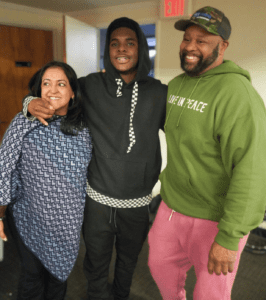 "We're always available," Malik added. "The kids know that there's always someone to support them. Whether it's the weekend or 2 a.m., we are all in."
Wendy Gomez, a sophomore at KIPP Esperanza, said, "I have some mental health issues, and Live in Peace really supports me by helping me learn more about my community. They've also helped me figure out plans for college and take steps on my way there."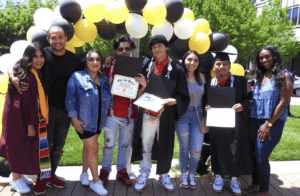 Live in Peace provides college scholarships and mentoring to all students, and boasts a college graduation rate nearly nine times higher than the national average for first-generation students and students who are considered low-income. "Many of our students are the first in their families to attend college, and we are all so proud of every single one," said Starnes-Logwood.
Starnes-Logwood added, "Every generation of kids at Live in Peace is different, but this generation is just especially smart, interested, creative, and kind."
If you are interested in joining one of Live in Peace's programs, email [email protected] or stop by 2524 Pulgas Ave, East Palo Alto. Visit their website to make a donation or volunteer to help support young people in the SWAG, GAP, and College Initiative programs.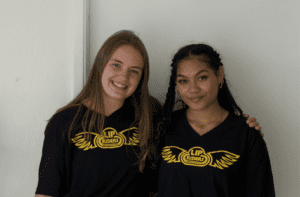 Note: this article was written by Ash Dominguez Prudente (right), a senior at M-A and a guest writer at the M-A Chronicle, and Caroline Pecore (left), a senior on the M-A Chronicle staff. Dominguez Prudente and Pecore are classmates in a senior Creative Writing course.