Picture this: it's match day and you're eyeing your tennis racket every thirty seconds. In a few hours, you will be playing a home game against SHP. Then it begins sprinkling outside–every tennis player's worst nightmare. The rain continues sporadically throughout the afternoon, leaving you anxious even as you arrive at the M-A courts. 
Luckily, the forces of nature were on M-A's side yesterday. The sky cleared right as Girls' Varsity Tennis arrived for some gator hunting. In an intense yet efficient couple of hours, M-A tennis defeated SHP in a full sweep. The energy was high to begin with, as Wednesday was the first Secret Buddy day of the season–all players received a gift bag full of food, drinks, and accessories from an anonymous fellow team member. 
Singles players Ava Martin '23, Charlie Smith '21, Emma Williams '23, and Mara Williams '23 (that's right, M-A has its own Williams Sisters) all dominated the court with a mix of aggressive and consistent play. While singles can feel isolating, the girls made sure to encourage each other with the classic "Sko bears!" cheer.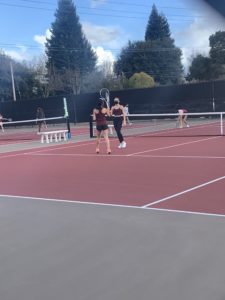 Doubles was equally strong, with Meena Alvi '24 and Sienna Aylaian '24 being the first team to finish their match. Both players attributed the quick win to their net strategy: "My net play has gotten much more developed," Meena commented. The two have been close friends for several years, which definitely helps their on-court chemistry. "We always try to stay positive and focus on the fun parts. It's really nice to have a partner as your support, and the tennis team is a great way to get to know other people at M-A," Sienna said. Minutes later, Johanna Gulliksson '22 and Christine Herbst '22 sealed their victory. They, too, emphasized that a "down the alley cross-court volley combo" was the key to success.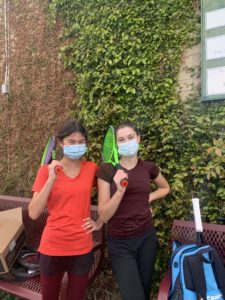 After months of practice in cohorts, the season is now in full swing (pun intended). Spectators are not yet allowed at the matches–but know that the M-A tennis team is a force to be reckoned with. Sko bears!