Photo credit: Lena Kalotihos
Ayers Gym was filled to the edges on February 6 as M-A participated in the 2019 National Collegiate Athletic Association (NCAA) Signing Day. Excited students, parents, teachers, and coaches gathered around a long table where all of M-A's 2019 collegiate athletes sat while Athletic Director Paul Snow announced their names one by one. This year, Signing Day was extra special for the M-A community because four-star football player, Daniel Heimuli, announced that he would be continuing his football career at the University of Washington, along with Noa Ngalu, another M-A football player who announced his commitment a couple weeks earlier. Other M-A athletes who were also committed to play college sports were Luke Scandlyn, John Mills, Will Olson, Julia Kispert, Maggie Hall, Axel Ljunggren, Hannah Shaw, Jack Hansen, Alicia Letvin, and Evelyn Calhoon.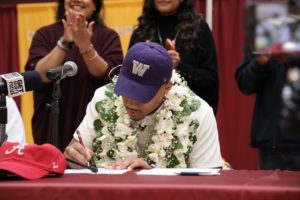 This past football season, M-A won the 3-AA State Football Championship after defeating Lincoln High School 21-7. M-A went through a long and grueling postseason which included coming back to win Central Coast Section (CCS) Open I Championship and traveling 300 miles to win the 3-AA Norcal Championship. Heimuli powered this team forward towards the state championship. Heimuli also participated in the Polynesian Bowl in January, where he won MVP of the game with six tackles and a sack. According to The Seattle Times, "he can be a true inside backer. He can blitz. He can get to the quarterback, get past his blockers. But if you want to drop him outside you can, because he can drop him into coverage. He's really athletic. He moves well in space. He's sideline to sideline. He's a running back too for his team, so he's a two-way player." He received offers from Oregon, Alabama, Washington and more. After a long decision process, Heimuli finally committed to Washington.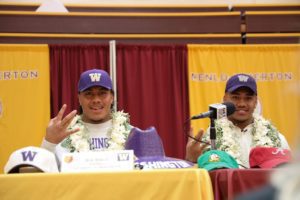 Equally as important to M-A's football state championship run as Heimuli is Ngalu. Ngalu is a Defensive Tackle three-star recruit that already signed with Washington. According to UW Dawg Pound, "from an interior line position, he has great field vision and patience, which pairs well with a great motor that allows him to always be in on a play. On top of that, he tackles well and really brings the thunder when he lays into ball carriers." Ngalu's incredible strength and quickness on his feet allow him to evade offensive lineman and sack the quarterback easily. Ngalu showed off his talent as a three year varsity football starter for M-A and a starting defensive lineman in the Polynesian Bowl. After an incredible career at M-A, he is poised to make a huge impact for the Huskies next season on the defensive line.
Shaw will further her career in lacrosse at Wooster College. When asked about why she chose Wooster, she stated that "once I got to know the students better and my relationships with the coaches grew more and more, I realized that it was the right fit for me." At M-A, she started all four years on varsity lacrosse, making an impact for her team each season. The impact she made during her sophomore and junior seasons got her recognized as first team West Bay Athletic League (WBAL) in lacrosse. Although the lacrosse season has not finished yet, Shaw is poised to be named first team WBAL a third straight season.
Next up is Scandlyn, who will be running track and cross country at Washington and Lee. Not only will Scandlyn just be remembered for his speed, but he will literally have his spot in M-A history, holding top ten times in the events of 1200, 1600, 3200, and the distance medley relay. It takes incredible versatility between short and long distance running to participate in both track and cross country, which Scandlyn clearly has and will be bringing with him to Washington and Lee.
Like Scandlyn, Mills will also be attending Washington and Lee next year, except instead of track, he will be playing on their lacrosse team. Mills showed off his talent on varsity all of his years at M-A. He has won first team all league the last three years, and was the captain the last two years. Mills is therefore the leader of the lacrosse team and brings the team through their ups and downs.
Throughout Calhoon's four years at M-A, she offered her wide range of skill sets in both soccer and wrestling every year. In wrestling, she won two CCS team titles with the possibility of a third coming soon. Even with her accomplishments in wrestling, Calhoon decided to pursue her career in soccer at Brown University.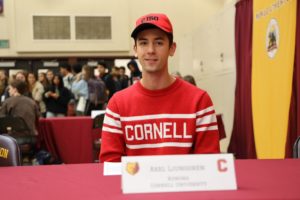 Ljunggren will join the lightweight rowing team at Cornell University. Ljunggren chose Cornell because "it has a fantastic engineering program and the rowing team is one of the best in the country." On Norcal Crew, he participated four years on varsity, with two of those years leading the team as a captain. In the Southwest Regional Rowing Championship, Ljunggren placed first in varsity four and third in varsity eight. He went on to compete at a national level at the US National Rowing Championships, where he placed 11th in varsity eight.
Like Ljunggren, Olson also rows for Norcal Crew. He is a three year varsity rower, competing in multiple national competitions over the years. One of these competitions was the Club National Championships, where he led his team to second place in varsity eight. Additionally, Olson holds a national record, a top ten record for time in the 2000 meter race. The lucky school to land Olson for lightweight rowing is Princeton University. According to Olson, "I wanted to continue my rowing and academic career at the highest level possible, and I thought Princeton would be a great fit, especially because they have a really great STEM program, which allows me to build upon what I've started here at M-A."
The next athlete is Kispert, a soccer player committed to Macalester College. On the M-A soccer team, she is a versatile forward, who has scored many goals for M-A over her years on the team. Although Kispert hasn't spent all four of her years on varsity, she carried her team last year to a league title, and will likely do the same again this season.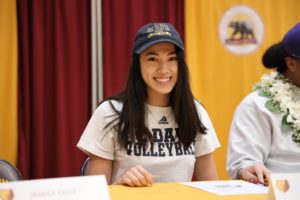 Letvin is a three year varsity volleyball player, proving time and time again that she is a vital player on the team. Letvin is committing to the University of California Davis, and will immediately become a crucial aspect of that team. Over the course of her three years on the M-A team, Letvin and her teammates dominated, winning two league titles along with a Norcal title.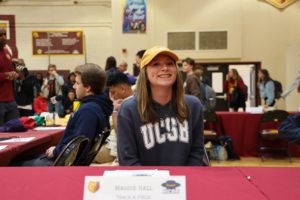 Hall is another track star this year at M-A. In track, she is a sprinter who holds school records in 100 meters, 200 meters, 400 meters, 4×100 meters, and 4×400 meters. She is also a CCS Champion in the 200 meter sprint. Hall also uses her track speed on the soccer field. All four of her years at M-A, Hall played soccer in the winter and ran track in the spring. Ultimately, Hall decided to continue her career in track at the University of California Santa Barbara.
Hansen played both football and lacrosse at M-A. In football, he helped M-A win the State Championship last December. Although Hansen was crucial to the football team, he proved to be even more important to the lacrosse team in their playoff runs the past couple seasons. Colby College will be adding the talented multi-sport athlete to their lacrosse roster next season.
Last up is Eagle, who set many records through her memorable three years running varsity track. Last season, she was faster than every other girl in M-A's section, which includes 150 schools. With this speed, she swooped up M-A track records including top five all time in 100 meters, 200 meters and 4×100 meter relay. Eagle has not yet committed to a school.