Last Sunday, Kepler's Literary Foundation hosted popular author Rick Riordan at the Fox Theater in Redwood City. Riordan wrote multiple series on Greek Mythology and was on a tour for the fourth book in The Trials of Apollo: The Tyrant's Tomb. The series is a spin-off from Percy Jackson and the Olympians series and The Heroes of Olympus series.
He talked about Read Riordan Presents, which is a small branch he and his publisher, Disney Hyperion, created. The branch is publishing books that are similar to Riordan's Percy Jackson series; however, they are based on Korean, Hindu, Aztec, and many other mythologies. The books are all written by a diverse cast of authors who, according to Riordan, "have a much more in depth knowledge on the subjects."
Angela Mann, who manages the youth events at Kepler's Literary Foundation, explained that the "[Kepler's Literary Foundation team] would have to move fast to find an available venue large enough to seat over 1000 people." Kepler's hosted Riordan before and were very eager to bring him back. Mann said that "his presentation was incredible" the last time he was there. 
Junior Jackson Gosler said his favorite part of the event was "when Riordan talked about his writing process for each book." Riordan's writing process is to write little snippets of each character and then outlines the book with only the most important plot points for each chapter.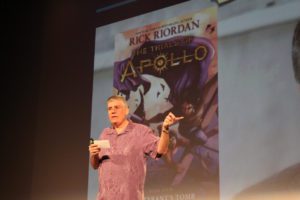 Kepler's has hosted Riordan previously. "The Disney Hyperion team love working with Kepler's children's event manager, Angela Mann and her team," he said. Coming to Kepler's was something Riordan wanted to do because "[He's] had a wonderful relationship with Kepler's Books for many years." 
The Kepler's Literary Foundation team is able to bring so many authors when publishers put out grids that explain the plans for author's tours  that Mann said, "All event coordinators for bookstores and libraries have access to." They will write proposals to try to convince them to have the author come to their store.
Click here for an article for a check-in on Kepler's and its efforts on trying to stay open on the M-A Chronicle.