The sandwich, one of the most popular and delicious lunch options in the U.S. There is no shortage of sandwich shops in the Bay Area, which is exactly why I had to figure out the best local spots to go to. After extensive research on Yelp, I selected four places to try: La Fromagerie Cheese Shop, The American Grilled Cheese Kitchen, Village Cheese House, and Ike's Place. At each restaurant, I picked whatever sandwich jumped out at me from the menu.
La Fromagerie Cheese Shop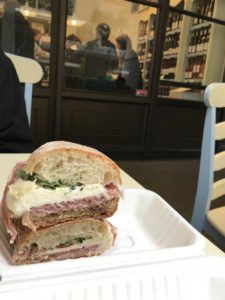 After about an hour of maneuvering through the San Francisco Financial District, I finally made it to La Fromagerie. The inside of the shop was bustling, with workers darting around making sandwiches, and angry businessmen and women impatiently waiting for their sandwich. When I finally made it to the counter, "The Italian" caught my eye. Between the burrata, prosciutto, tomato, basil, and balsamic dressing, it was impossible to put down. Each ingredient was so fresh, and it all meshed together incredibly well to give the sandwich a classic Italian flavor. I loved La Fromagerie and I would definitely recommend it if you ever find yourself in need of a quick lunch in San Francisco.
Overall Grade: A-
The American Grilled Cheese Kitchen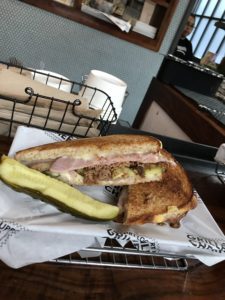 Hours after a wonderful meal at La Fromagerie, I made my way through the South Park of San Francisco to The American. The exteriors grand, arching windows made the restaurant appear like an old train station. Inside I found a long wraparound bar, and tons of San Francisco memorabilia hung up on the walls, making it feel more like a bar instead of a restaurant. There was no line so I walked right up to the counter and ordered a divine looking sandwich named "The Cubano." The panini press trapped the pork, ham, pickles and swiss between two fresh pieces of ciabatta bread. I was already stuffed to the brim from La Fromagerie, yet I still finished this sandwich because it was that good. Both the pork and the ham were perfectly cooked and seasoned, and the pickle gave the sandwich a tangy Latin American flavor. If you are looking for a longer sit down lunch spot in San Francisco, The American is the place to go.
Overall Grade: A
Village Cheese House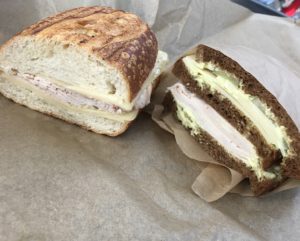 Nestled on the corner of Palo Alto's Town and Country, Village Cheese House is a classic sandwich shop for Stanford students. With massive square footage, they had plenty of lush couches, which make it feel like you are waiting in your house for your sandwich. Unfortunately, the ambience was the best aspect of this sandwich spot. I ordered a sandwich called "The Old Fashioned." The sandwich consisted of turkey, swiss cheese, pickles, and their house sauce. Although I forgot to specify what bread I wanted, they decided to give me rye bread, and no one likes rye bread. The sandwich was only OK, not only because of the rye bread, but also because the turkey and swiss cheese were less than fresh. However, Village Cheese House is still a solid stop for sandwiches, but maybe stay away from the sandwich I ordered.
Overall Grade: B-
Ike's Place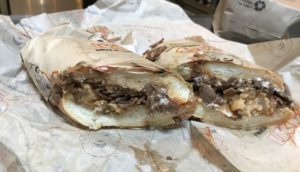 In the heart of downtown Palo Alto, Ike's Place is the hot sandwich shop that everyone is talking about at M-A. With seemingly hundreds of sandwiches to choose from, it took me a couple minutes just to decide which cuisine of sandwich I wanted. I finally decided on "The Damon Bruce," a sandwich loaded with with steak, onion rings, steak sauce, and provolone on a sourdough roll. I had no words after my first bite, except for the thought that it might be one of the best sandwiches I've ever eaten. I could not put it down, and five minutes later, it was gone. The sudden surprise of the sandwich was the onion rings. It gave the sandwich a jolt of flavor with a little bit of a crunch. The sandwich tasted a lot like a Philly cheesesteak, but the onion rings was the secret ingredient that made it unique for me. I would definitely recommend Ike's Place as a quick "grab and go," as it has no indoor seating. The only reason Ike's Place did not receive an outstanding grade is because it has little indoor seating, which takes away from the traditional sandwich-eating experience.
Overall Grade: B+