In a fast-paced, tech-reliant world, spending time in a bookstore can be refreshing and grounding. Though buying books online may be more convenient, bookstores provide a unique, quiet atmosphere to discover new reads. Here are some local gems and what they have to offer!
Feldman's Books
Across from the Trader Joe's in downtown Menlo Park sits Feldman's Books (1075 Curtis St, Menlo Park), a small used bookstore that has been serving the Menlo Park community since 1996. The floor-to-ceiling bookshelves, wooden upright piano with sheet music sprawled over it, and relaxing music add to the bookstore's quiet, homey ambiance.
Owner Jack Feldman said, "I think it's just a cozy place to hang out, with a lot of chairs, and we try to have good books with reasonable prices."
He added, "I like all the people and I like all the books that come in—that's always exciting. There's a lot of great discoveries, treasures, classics, and more." In fact, Feldman's has a fully-stocked bookshelf of new treasures right next to the front door, a reminder of the community that has helped keep Feldman's alive. As a used bookstore, Feldman's relies on book donations from community members.
Feldman said, "[Our business] never really slowed down because of the pandemic; it's always been pretty steady, except for when we were closed for a few months [in 2020]. People weren't bringing in as many books, so the shelves were getting a little thin, but now people are bringing in a lot of books."
If you have gently-used books you'd like to donate, drop them off at Feldman's! Kepler's is a community favorite for families and students alike in downtown Menlo Park. In the summer, they create displays of books that local schools, including M-A, assign as summer reading. From a shelf with dozens of staff picks of every genre to displays with books for local book clubs, Kepler's has got something for every reader, whether enthusiastic or reluctant.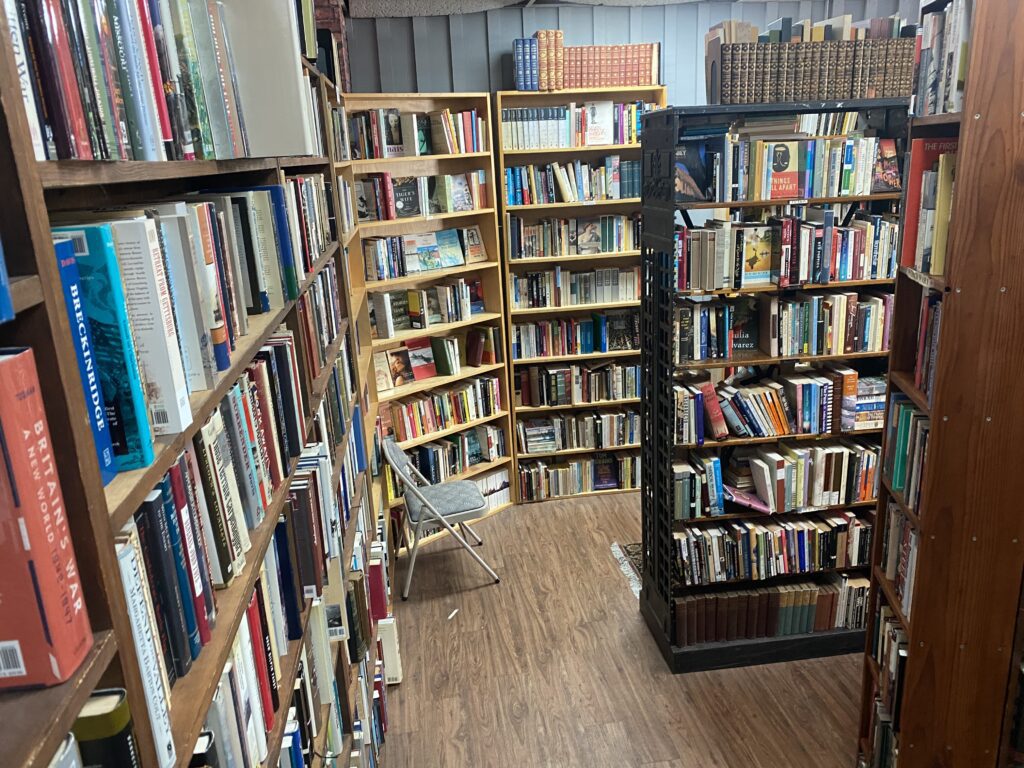 Kepler's
Brittany Caine, the Customer Service Manager at Kepler's, said, "It's a super, super special store. There aren't that many really strong historical and independent bookstores anymore." Kepler's is not only a modern gem in our community, but also has a long history of delighting bookworms in the Bay Area. It was founded in 1955, and moved to its current location (1010 El Camino Real #100, Menlo Park) in 1989.
Caine added, "It's so wonderful to get to be in a space where people come in at least once a week and someone will say, 'I grew up coming to Kepler's, and now I come in with my family.' That is just absolutely one of my favorite things to hear. It doesn't get old."
Kepler's is known as both a charming bookstore and a center for community events. Caine said, "One of my favorite Kepler's memories is that, this last Christmas season, we had a visit from Santa. It felt like being at a Hallmark movie: you had your store, you had your people, you had your kids who were so excited to not just have a brand-new book, but to have a brand-new book that has Santa's signature in it."
"We really want you to have an experience here that's meaningful," Caine said. "The difference between what somebody is going to experience when they walk into a store and what somebody is going to experience when they go book shopping online is tantamount. Here, there is an absolutely human connection. We're in the same place. We're experiencing the same things. It's an unreplicable experience that you can't have online."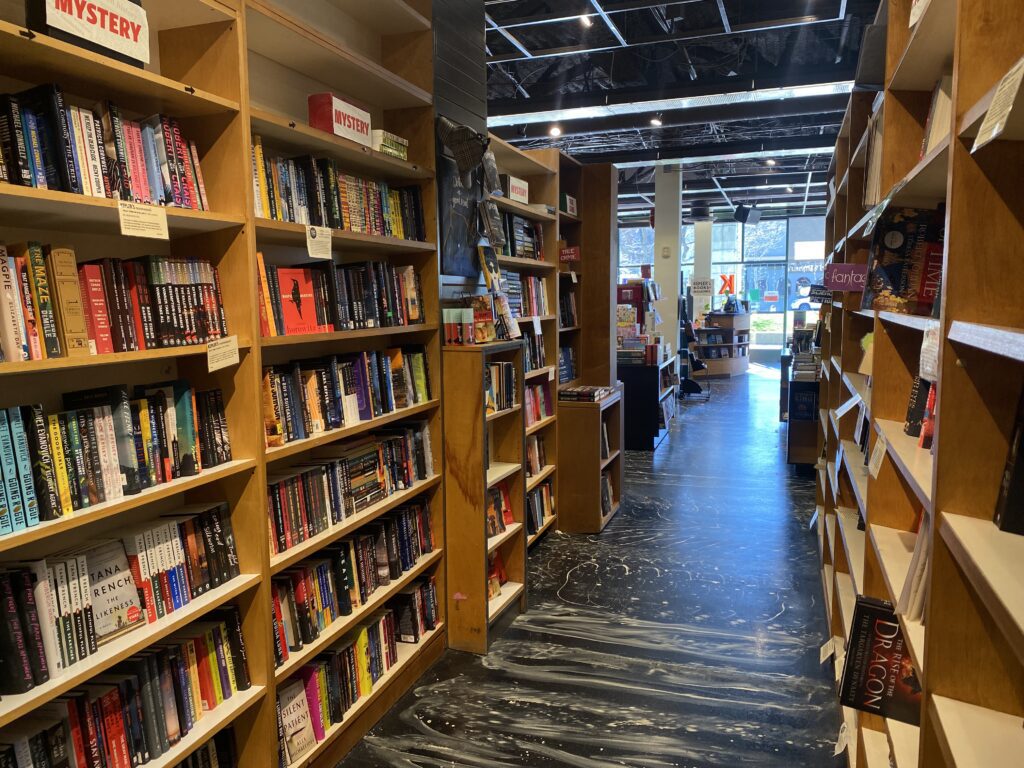 Books Inc.
With prominent displays of "New and Noteworthy" books, Books Inc. in Palo Alto's Town & Country Village (855 El Camino Real #74, Palo Alto) certainly fits the forward-looking, modern ideals of the Bay Area, but its history goes farther back than any other bookstore we visited. Books Inc. was first established in Shasta County in 1851 after its founder made it big in the California Gold Rush. It now has 11 locations throughout the Bay Area.
Employee Tricia Carrasco said, "Since I started working here, I've felt myself getting smarter, because I've read so much and met so many people who read so many different things. I feel like I see the world kind of differently now, which is super cool."
The Books Inc. in Town & Country sits in the middle of a popular center for food and shopping, constantly bringing in an easygoing crowd of visitors. Carrasco said, "What's unique about Books Inc.—especially our store, in the Palo Alto location—that I really like is that we've got a kind of vintage, indie vibe. Not to put other bookstores down, but the bigger bookstore chains feel a lot more corporate and a lot less personal."
Books Inc. has become a beloved component of Town & Country and the surrounding community. Carrasco said, "We represent smaller and local authors, like Palo Alto High School kids who published short stories. It's important to support local bookstores because the thing that people will come in for over and over again is the personal touch, and bookstores like this can offer that, but bigger chains can't."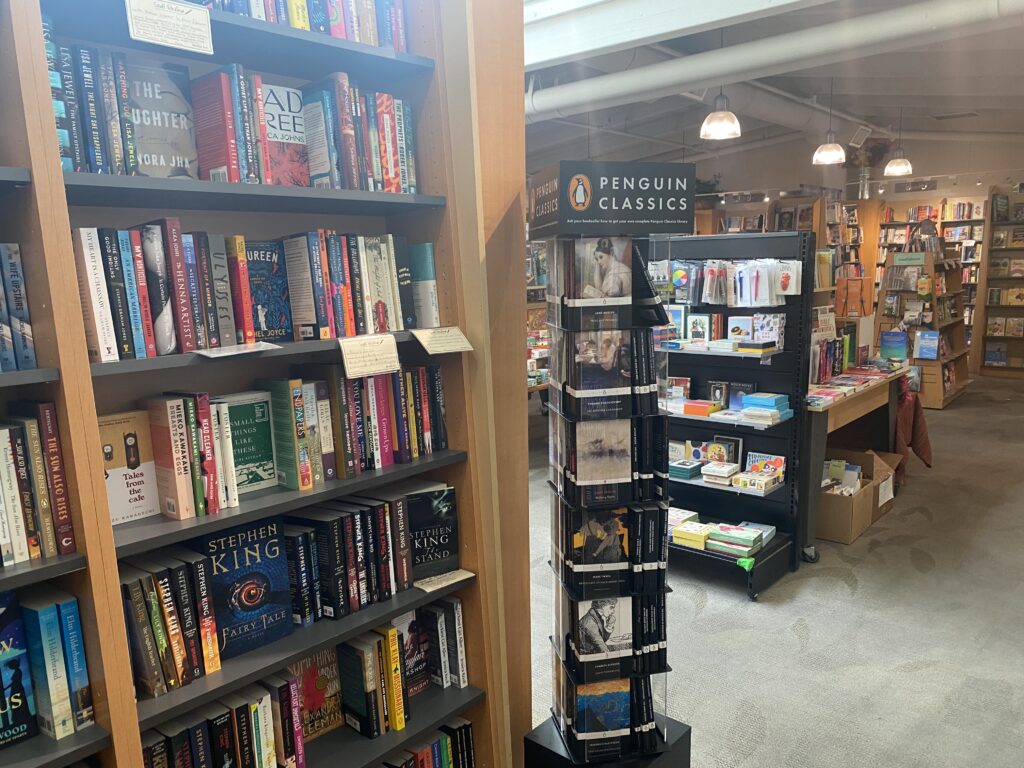 Bell's Books
Bell's Books, founded in 1935, is the only bookstore in downtown Palo Alto (536 Emerson St, Palo Alto), and it's a special find. Unlike an ordinary bookstore, Bell's has been bringing a vast selection of rare books and unique collections to the Silicon Valley community since its founding. Some one-of-a-kind finds at Bell's include first-edition donated philosophy texts and signed copies of books by literary giants like T.S. Eliot, Robert Frost, Frank Herbert, and more.
Overflowing shelves of books cover every wall of the building, with books even lining the stairs that lead customers to a wide variety of sections on the second floor, from fiction to military history to philosophy. Employee Emma Beckman said, "We try to focus on our collectible material, like rare books, things that are signed by the author, first editions, and just nicer things that are just harder to find in other bookstores."
On her favorite part of working at Bell's, Beckman said, "It's nice working with customers who come in. People with broad interests come here. Having access to these kinds of books that you can't just find at every other bookstore in the world means that you're finding perspectives that maybe you wouldn't find otherwise."
As a small business, Bell's has been flourishing after the initial COVID-19 lockdown. Beckman said, "In terms of people and customers, I think we've actually been getting more people who wouldn't have come in otherwise. Getting more people who want to help small businesses has been a nice thing that's come out of this."
Beckman added, "I went to high school in Palo Alto, so I'm from here, so just being able to work with the public that's coming in and supporting people who live in the community is always a nice thing to do."