Photo credit: Bob Dahlberg
After one season of Steve Papin as the head coach of M-A football, Steven Kryger and Paul Snow, have decided that Papin will not be returning as head coach for the 2020 season. 
Papin was hired on April 22 of last year, after M-A was forced into hiring a new coach when previous coach Adhir Ravipati decided to step down and focus on his leadership position at a growing tech company, Protxx. Almost immediately, it became clear that Papin would have massive shoes to fill. In an M-A Chronicle article from last year about Ravipati, staff writer Heath Hooper described Ravipati's four years as head coach as historic, mentioning that "Ravipati led M-A to 3 league, 2 CCS, and 1 state title, flipping the script on a historically inconsistent program." After three successful seasons, Ravipati ended his fourth season in an ideal way, leading the Bears to a Division 3-AA State Championship. 
Papin came into the program with a long football background, most recently coaching the football team at Independence High School for the last five seasons. Papin had also coached Gunderson High School before that, and even played in the Arena Football League for the San Jose Sabercats. Although the expectations for the 2019 season were high coming off of a state championship, Papin was a smart hire to take over the team with plenty of experience coaching high school football.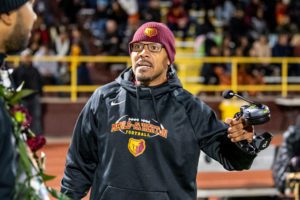 The bears had a solid 2019 season, going 7-4 and winning the PAL Bay Division Championship. However, with a state championship the previous season, most players expected more from the season. According to sophomore starting quarterback Matt Macleod, "we had very high expectations this last year, and we did not fulfill those expectations."
After a 51-14 win over Bellarmine to open up the season, M-A had a brutal stretch of three games which included playing Serra (Division 1-A Norcal Champion) at Levi's Stadium, traveling to play East (Utah HS Athletic Association semifinalist) in Salt Lake City, and going out to the central valley to play Folsom (Sierra Foothill League champion). M-A lost 38-13, 49-20, and 49-0, respectively. The bears got back on track after a 1-3 start by winning 6 games to close out the regular season with a record of 7-3. Having a 7-3 record, M-A qualified for the CCS Division 1 playoffs, but fell to Wilcox 42-35 in the first game of the playoffs. With such big expectations going into the season, even with a solid record, a one and done playoff loss was a let down for a team with so many future college players. Even worse, the game was also senior night, which would have been the senior night of Aisea Mataele, an M-A football player who tragically died as a freshman, so the team especially wanted to win the game for Aisea. 
However, even after M-A's first round playoff loss, Athletic Director Steven Kryger said that, "M-A coaches are not usually fired for not leading their teams to good records," which makes it unlikely that Papin would be fired solely over the team's performance in the 2019 season, especially because Papin's team did not have a losing record. 
Aside from the team's 7-3 record, Papin's relationship with players and parents may have been damaged throughout the year. According to Macleod, "I think he was not the right guy for the job and did not really have much respect from the players and assistant coaches. Us as players did not really buy into him and his teachings and as a result, our team did not do as well as we would have liked." Junior guard David Sulunga added, "Papin brought the program down because he was more of a friendly coach that let us get away with too many things, compared to Adhir when we went to state, who never let us get away with anything, even things like being late to class."
Tension between Coach Papin and fans came after continued ridicule over the plays that Papin was calling during the game. An article by The Daily Journal detailed that "in the minutes following the (SHP vs M-A football) game, he complained to school administrators, while on the field, voicing his displeasure over the continued ridicule (directed at him) from individual (M-A) fans." Papin would go on to say in the same article, "I was being chastised and being talked about, it was one of those things, we win and they don't accept me." 
Kryger did not openly say the specific reason for Papin's firing, so players and fans can only speculate. 
In terms of the future head coach of M-A football, Kryger said, "we have collected a number of resumes and hope to start interviewing soon. Most applicants are local, although we have a few from out of state or Southern California."